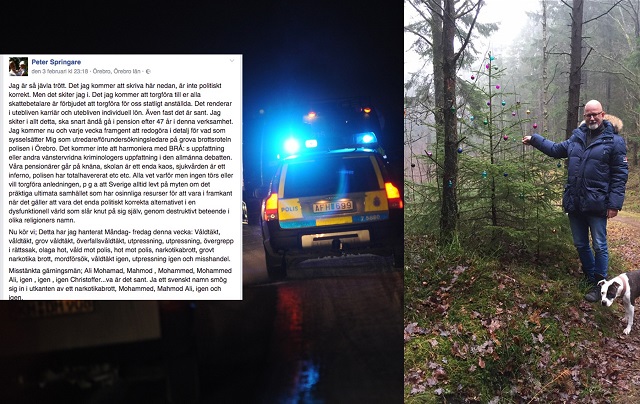 After 47-years on the force, Sweden's "most experienced police investigator," officer Peter Springare, hit his breaking point last week and posted a detailed rant explaining how migrants are responsible for almost all crime in his country.

Springare wrote last Friday on Facebook:

I'm so fucking tired. What I will write here below, is not politically correct. But I don't care. What I'm going to promote you all taxpayers is prohibited to peddle for us state employees. That tends to drive in a non-career and non-individual pay. Even though it's true. I don't care about all of this, will soon still retire after 47 years in this activity. I will now and every week to explain in detail what for employing me as investigators / investigator on coarse mcu police in örebro. It's not going to be good with the opinion or other leftist kriminologers perception in the general debate.

Our pensioners is on its knees, the school's a mess, healthcare is an inferno, the police have totalhavererat etc etc. We all know why but no one dare or wants to peddle the reason, due to the fact that Sweden always lived on the myth of prudes ultimate society who have osinnliga resources to be at the forefront when it comes to be the only politically correct option in a dysfunctional world that beats Knot on their own by destructive behavior in different name of.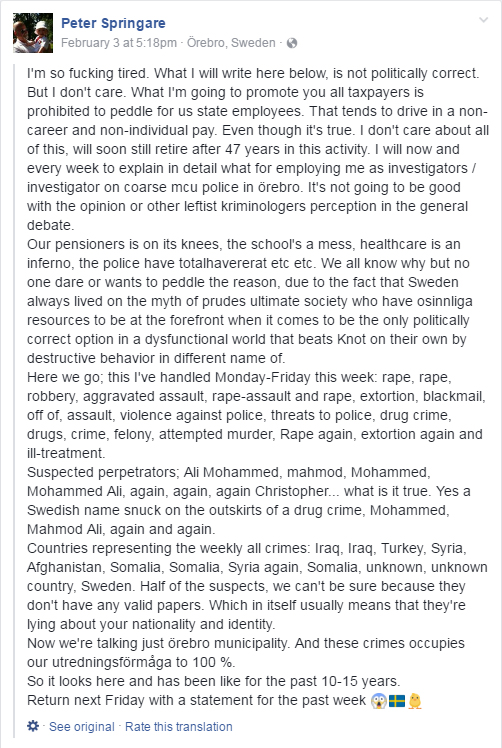 Here we go; this I've handled Monday-Friday this week: rape, rape, robbery, aggravated assault, rape-assault and rape, extortion, blackmail, off of, assault, violence against police, threats to police, drug crime, drugs, crime, felony, attempted murder, Rape again, extortion again and ill-treatment.

Suspected perpetrators; Ali Mohammed, mahmod, Mohammed, Mohammed Ali, again, again, again Christopher... what is it true. Yes a Swedish name snuck on the outskirts of a drug crime, Mohammed, Mahmod Ali, again and again.

Countries representing the weekly all crimes: Iraq, Iraq, Turkey, Syria, Afghanistan, Somalia, Somalia, Syria again, Somalia, unknown, unknown country, Sweden. Half of the suspects, we can't be sure because they don't have any valid papers. Which in itself usually means that they're lying about your nationality and identity.

Now we're talking just örebro municipality. And these crimes occupies our utredningsförmåga to 100 %.

So it looks here and has been like for the past 10-15 years.

Return next Friday with a statement for the past week.
As a result of Springare's post, Samtiden reports he's is being hailed as a "people's hero" and "whistleblower" who should be "the next national police chief."

State media outlet Sveriges Radio reports an investigation was launched by police due to his post and a special prosecutor is currently determining whether or not anything he wrote was "illegal."

Swedish police were ordered in 2016 to stop releasing the race and nationality of criminal suspects "to avoid being branded racist."

Follow InformationLiberation on Twitter and Facebook.