Oath Keepers Infiltrate 'Anti-Fascist' Communist Groups, Share Info With Police
Chris Menahan
InformationLiberation
Jan. 31, 2017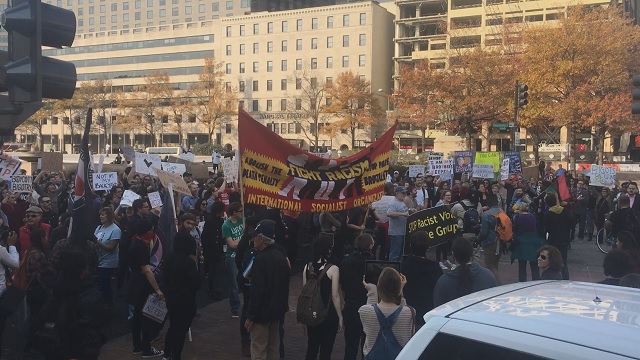 Oath Keepers have released a new report saying they've infiltrated a multitude of far-left communist groups and worked together with James O'Keefe's Project Veritas to feed information to police.

From Navy Jack at Oath Keepers:

As many of you know, Oath Keepers initiated Operation HYPO in response to the increasingly violent protests that broke out across the country following the election. We had some members already in a position to quickly infiltrate the protest organizations that were active in support of Operation Sabot. I myself assumed an identity of an individual from another state with all of the necessary elements to ensure success of my assigned responsibilities. Working during the day, I would travel by night to meetings and protests in various cities. Most weekends were consumed with assimilating reports from other operatives, grooming equipment and planning our activities. Our entire team had immense support from Oath Keepers senior leadership.

[...]The anarchists are by far the most dangerous of these groups. They are organized like militias. They actively train and practice their operations. They have discipline and zero tolerance for weakness. They have a number of former military personnel providing expertise to enhance security, logistics and martial arts capabilities. The majority are physical fit, military age males. They are primarily white with few minority members. Their leadership tends to be either former military, a proven leader from the occupy movement or a highly educated alpha-male. They are far more capable than their recent activities would demonstrate. They have formed community defense organizations and are idolized for their willingness to take action from the other groups discussed above. They are however anarchists that despise communism as much as they despise capitalism. They see patriots and constitutionalists as their primary enemy. To them, everyone is a NAZI or a fascist unless they are an anarchist. There is no debate allowed on these issues, ever. They operate under various names, but the vast majority identify with the anti-fascist movement. With the election of President Trump, their membership has increased exponentially. There are at least 50,000 nationwide. They have been able to assimilate much of the "occupy" and "black-bloc" movements. Most of what these organizations accomplish are classified as direct actions. They will participate in a protest or a march, but they are not big fans of passive resistance.

For those of you that are not familiar with the term "direct action", these are very precise coordinated operations conducted by small groups (4-6 members) that have very specific unit and overall goals. The planned smoke bombing of an Inauguration Ball is a good example of a direct action. Our team foiled this operation. We informed the DC Police Department, the National Press Club and the Inauguration Ball security team leaders of these plans on January 9th, 2017. Direct targeting of individuals and businesses are common direct action activities for the Anti-Fascists. Destruction of property (burning your car, damaging your house, busting the windows out where you work, etc.) are standard direct actions against targeted individuals of these groups. Ask James O'Keefe from Project Veritas or Milo Yiannopoulos from Breitbart News.  They are both now having to deal with this.  The following video was recorded at Portland International Airport last night. The PDX Black-bloc initiated "direct action" to assault individuals who they believed were supporters of the President. You can watch a longer version of this event, now being characterized as a riot, here.
This type of activity is exactly why Oath Keepers deployed security teams to Washington DC during the Inauguration, to protect people from such brutal assaults.

There were dozens of organizations trying to penetrate these groups immediately following the election. Groups like Capital Research, various law enforcement agencies and Federal contractors were all involved. All were busted or turned away at some point, especially if they attempted to penetrate the larger anti-fascist organizations in Washington, DC, New York City and Philadelphia. Oath Keepers personnel to date have never been busted. We did coordinate some activities and evidence with the leadership from Project Veritas, who as you may know was able to produce additional video evidence that led to arrest warrants being issued for the conspirators of the Inaugural Ball smoke bomb plot.
Read their full report.

Follow InformationLiberation on Twitter and Facebook.