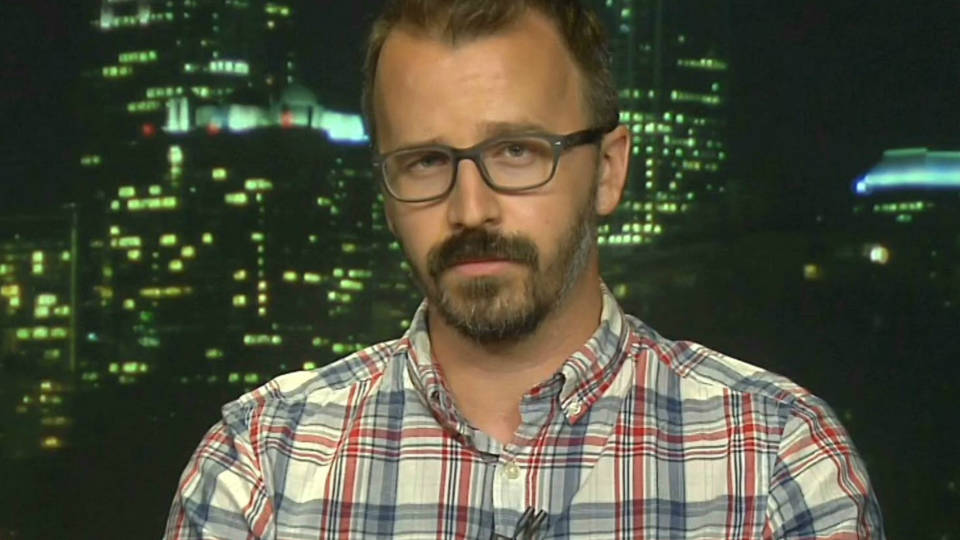 Despite explicitly stating the massacre of white people during the bloody Haitian revolution was "a good thing" and wishing for "white genocide" on Christmas eve, professor George Ciccariello-Maher says Drexel University supports him.

From Reuters:

A Drexel University professor, whose tweet that he wanted "white genocide" for Christmas sparked a firestorm of criticism from the school and social media, said on Tuesday that administrators supported his right to take part in political debate.

George Ciccariello-Maher, a white associate professor of history and politics at the Philadelphia university, has said his Christmas Eve posting of "All I Want for Christmas is White Genocide" on Twitter was aimed at poking fun at white supremacists.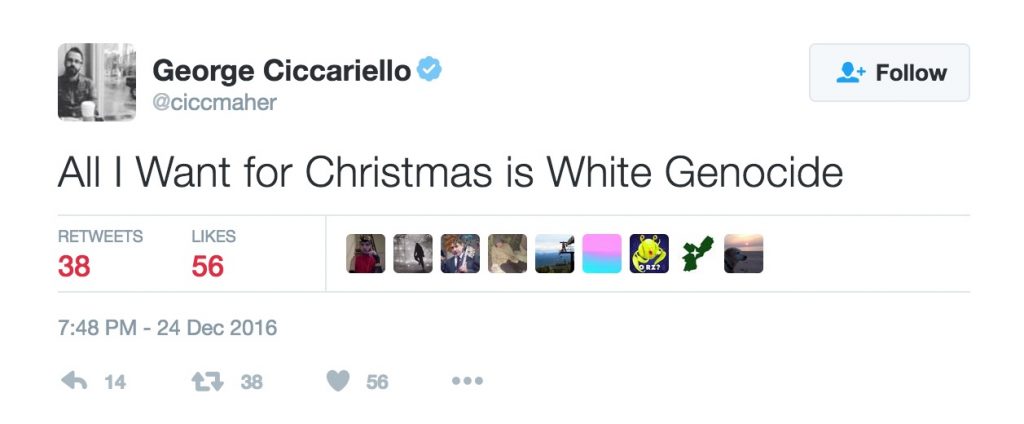 He is an expert on Latin American social movements with about 10,000 Twitter followers.

But his attempt at satire triggered a backlash from conservative websites, with some online comments calling for him to be fired or commit suicide. Drexel on Sunday called his tweet "utterly reprehensible" and said it would meet with him to discuss it.
This is fake news. Ciccariello-Maher explicitly clarified his comment to say the massacre of whites during the Haitian revolution "was a good thing indeed."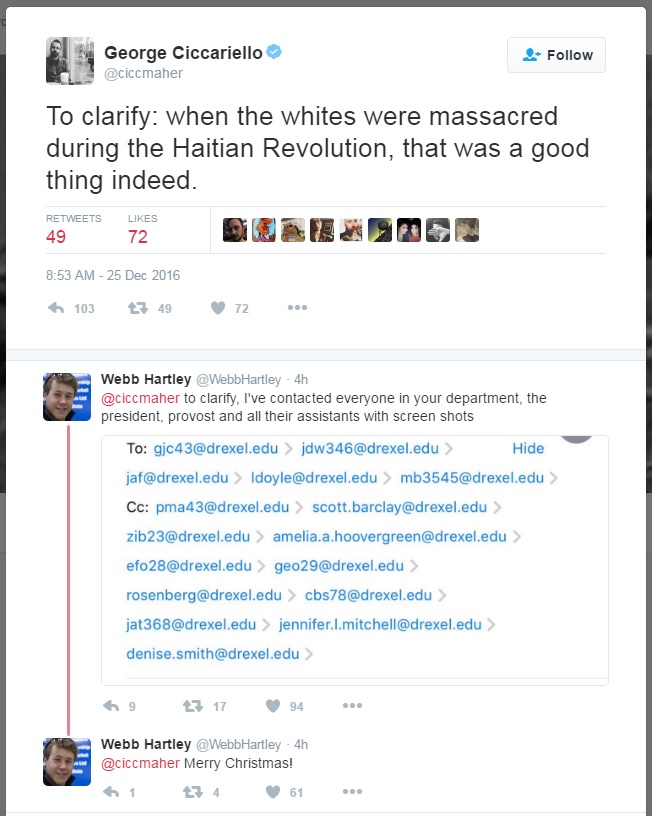 Ciccariello-Maher has a rich history of anti-white hate preaching as The Daily Caller reported on Sunday:

Ciccariello-Maher's anti-white tweets, however, did not start this weekend. On Feb 3, 2013, the Drexel professor said that "Yacub made a lot of white folks." According to Nation of Islam theology, Yacub is a black scientist who created the white race to be a "race of devils."

Then on June 8, 2015, Ciccariello-Maher said, "Abolish the White Race." A little over a week later, the Drexel professor said that Charleston church shooter Dylann Roof "simply put into practice what many white Americans already think."

Ciccariello-Maher also tweeted in Sept. 2016 a purported exchange between him and his son: "Son: If I was a slave, I'd bake a cake & put a potion in it & the white people would steal it Me: What would the potion do? Him: Kill them," the Drexel University professor wrote.

Just this past week, in response to a viral video claiming to show two men kicked off a plane for speaking Arabic, Ciccariello-Maher wrote, "#Gulag these Racist Crackers."
Reuters continues:

Ciccariello-Maher said in an email that he had spoken with Drexel administrators by phone about the tweet.

They "reiterated their support for faculty who participate in vigorous public debate, as well as concern for the safety of myself, my family, and others in this unpredictable post-election climate," Ciccariello-Maher said.

Representatives for the school did not respond to requests for comment.
I'm sure if a white professor "joked" about genociding blacks the university would be just as understanding and the fake news media would run cover for his comments.
"White genocide" is a conspiracy theory promoted by white nationalists who contend that majority-white countries promote low fertility and immigration to wipe out the white population.

Bret Grote, Ciccariello-Maher's lawyer, said Drexel's criticism was in response to an online smear campaign by far rightists emboldened by the election of Republican Donald Trump as president.

Drexel, a private school with about 26,000 students, will not discipline Ciccariello-Maher because of his rights to free speech and academic freedom and the political content of his tweet, Grote said.

Ciccariello-Maher "is taking a very consistent and principled opposition to those whose identity, ideology and political platform is based on the systematic suppression of the rights and humanity of people of color," he said by phone.
College professors can explicitly wish for white genocide and say the massacre of whites is "a good thing indeed," but to suggest there's an agenda in "majority-white countries" to "promote low fertility and immigration to wipe out the white population" is a "conspiracy theory."

How interesting.



Follow InformationLiberation on Twitter and Facebook.