HATE HOAX: Black Man Arrested In 'Vote Trump' Mississippi Black Church Burning
Chris Menahan
InformationLiberation
Dec. 22, 2016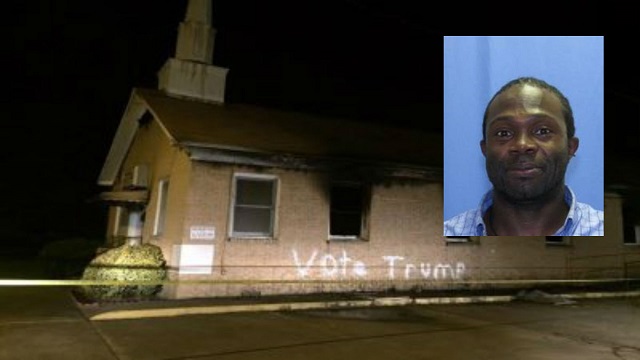 No one could have predicted this.

From The Daily Mail:

A historically black Mississippi church that had 'Vote Trump' sprayed on it prior to being torched was attacked by a black member of its own congregation, police have said.

The blaze broke out at the 200-member Hopewell Missionary Baptist Church in Greenville at around 9.15pm on December 1, a week before the presidential election. Commentators were quick to point out the possible political ad racial implications.

Officials say that they don't believe suspect Andrew McClinton, 45, was politically motivated - but suggest that he might have staged the attack to make it look like a hate crime.

After the fire at the historically black church, which serves a 78 per cent black city and has a congregation stretching back 111 years, many were concerned about the racial implications.

US Rep. Bennie Thopmson, a Democrat whose district includes Greenville, said at the time that the fire and graffiti hearkened 'back to a much darker day in Mississippi.'

'The political message of the vandalism is obviously an attempt to sway public opinion regarding the upcoming election,' he said. 'I encourage all citizens not to be deterred by this cowardly act and exercise your right to vote at the ballot box.'
Here's how The Daily Beast reported it:





The Atlantic:





I wonder if they'll be labeled as "fake news."
But the announcement that the attacker was not just black, but - according to Hopewell Bishop Clarence Green - a member of the church's congregation, has turned that theory on its head.

Officials have not yet revealed a motive in the ongoing investigation, but have suggested that McClinton, of Leland, Mississippi, may have attempted to make the attack look like a hate crime.

'We do not believe it was politically motivated. There may have been some efforts to make it appear politically motivated,' Mississippi Insurance Commissioner Mike Chaney, who is also the fire marshal, said.

This isn't the first time McClinton has been in trouble with the law. In 1997 he was sentenced to seven years for attempted armed robbery in Lee County.

And in 2004 he was convicted of armed robbery again, serving eight years in prison.

He also received three years' probation for grand larceny in 1991; that probation was revoked the following year because he received stolen property.

McClinton's supervision by the department ended in February, the spokeswoman said.
The Democrats tried to use this to get out the black vote, but it was so blatantly staged it seemed to have had no effect.

Follow InformationLiberation on Twitter and Facebook.