'Rampant' Voter Fraud Favoring Dems Caught in Swing States Across U.S.
Chris Menahan
InformationLiberation
Nov. 07, 2016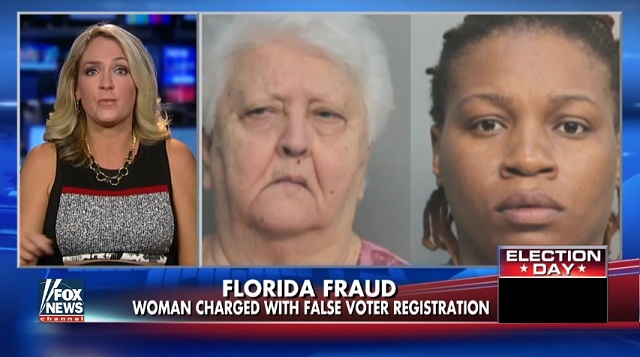 "Rampant" voter fraud is already going down across the US, all of which is in favor of Democrats.

Watch the Washington Times' Kelly Riddell run down some of the worst cases so far on "Fox and Friends":



The Democrats are going to be doing everything they can to STEAL this election from Donald Trump. There are trillions of dollars on the line and you can bet your bottom dollar the establishment will do everything in their power to prevent Trump from winning. Obama even went so far as to tell illegal immigrants they shouldn't "fear" voting because no one will be "investigating" them. We the people do need to be investigating them by all legal means and catching them in the act on camera.

We need all Americans who love this country to get out and vote for Trump. If you see anything suspicious, record it on your phone and report any suspected cases with Vote Stand app. Also, share anything suspect on social media.

You should report any cases of fraud or suspected fraud to local state officials, which will be either the Secretary of State of the State Board of Elections. Here's a list of numbers you can call from FreedomWorks' 2012 guide for reporting fraud:

Alabama 334-242-7210

Alaska 907-465-4611

Arizona 602-542-8683

Arkansas 501-682-5070

California 916 657-2166

Colorado 303-894-2200

Connecticut 860-509-6100

Delaware 302-739-4277

Florida 877-868-3737

Georgia 877-725-9797

Hawaii 808-453-8683

Idaho 208-334-2852

Illinois 217-782-4141

Indiana 317-232-6531

Iowa 888-767-8683

Kansas 785-296-4561

Kentucky 502-564-3490

Louisiana 225-922-0900

Maine 207-624-7736

Maryland 410-269-2840

Massachusetts 617-727-7030

Michigan 888-767-6424

Minnesota 877-600-8683

Mississippi 601-576-2550

Missouri 573-751-2301

Montana 406-444-3976

Nebraska 402-471-2555

Nevada 775-684-5705

New Hampshire 603-271-3242

New Jersey 609-292-3760

New Mexico 505-827-3600

New York 518-473-5086

North Carolina 919-733-7173

North Dakota 701-328-4146

Ohio 614-466-2585

Oklahoma 405-521-6457

Oregon 503-986-1518

Pennsylvania 717-787-5280

Rhode Island 401-222-2345

South Carolina 803-734-9060

South Dakota 605-773-3537

Tennessee 615-741-7956

Texas 512-463-5650

Utah 801-538-1041

Vermont 800-439-8683

Virginia 804-864-8901

Washington 360-902-4151

Washington DC 202-727-2525

West Virginia 304-558-6000

Wisconsin 608-261-2028

Wyoming 307-777-5860

Follow InformationLiberation on Twitter and Facebook.