Wikileaks: Former Business Insider Writer Colin Campbell Acted As Clinton Propagandist
Chris Menahan
InformationLiberation
Nov. 05, 2016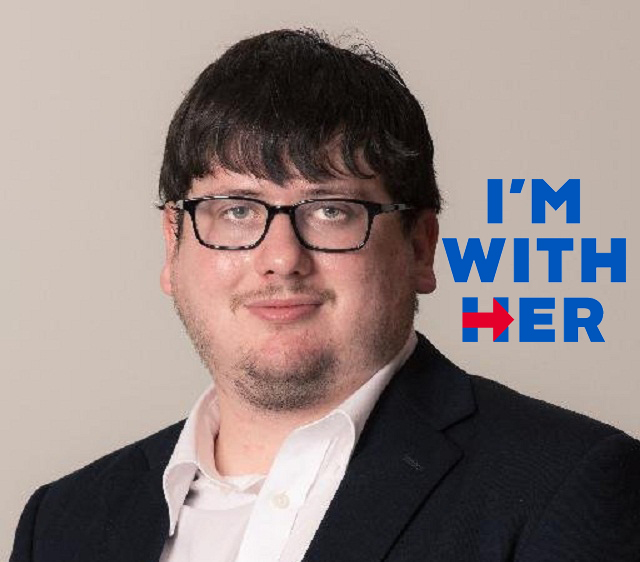 Leaked emails from Clinton campaign manager John Podesta show former Business Insider writer Colin Campbell appears to have worked in concert with the Clinton campaign to push pro-Clinton propaganda.

Colin Campbell's Twitter profile says he's now the Deputy Politics Editor at Yahoo News.

An email dated May 26, 2015 shows Campbell emailed a fluff propaganda piece he wrote for Business Insider to Clinton's national spokesman Josh Schwerin, seemingly seeking a pat on the head.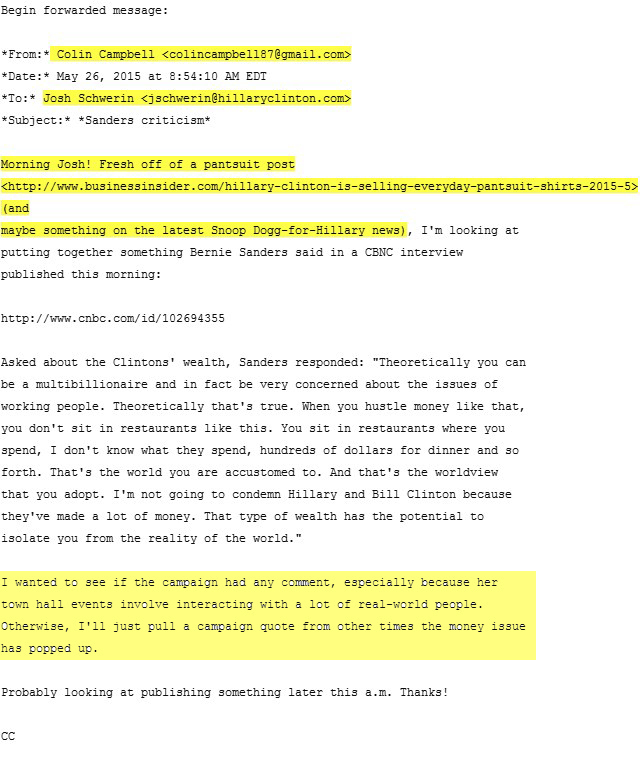 "Morning Josh!" Campbell wrote.

"Fresh off of a pantsuit post <http://www.businessinsider.com/hillary-clinton-is-selling-everyday-pantsuit-shirts-2015-5> (and maybe something on the latest Snoop Dogg-for-Hillary news), I'm looking at putting together something Bernie Sanders said in a CBNC interview published this morning:"

Campbell's "pantsuit post" was a sickening fluff piece where he literally hawked merchandise being sold in Hillary Clinton's online campaign store: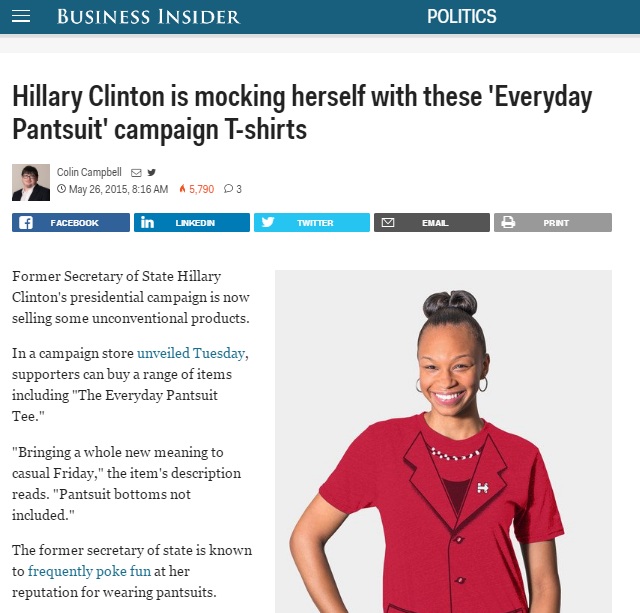 Clinton shill Colin Campbell's version of "journalism" consists of hawking products from the Clinton campaign store.


Campbell went on to share a link to this CNBC article where Bernie Sanders leveled mild criticism of Hillary Clinton's wealth and suggested it may make her out of touch.

Campbell writes:

Asked about the Clintons' wealth, Sanders responded: "Theoretically you can be a multibillionaire and in fact be very concerned about the issues of working people. Theoretically that's true. When you hustle money like that, you don't sit in restaurants like this. You sit in restaurants where you spend, I don't know what they spend, hundreds of dollars for dinner and so forth. That's the world you are accustomed to. And that's the worldview that you adopt. I'm not going to condemn Hillary and Bill Clinton because they've made a lot of money. That type of wealth has the potential to isolate you from the reality of the world."

I wanted to see if the campaign had any comment, especially because her town hall events involve interacting with a lot of real-world people. Otherwise, I'll just pull a campaign quote from other times the money issue has popped up.

Probably looking at publishing something later this a.m. Thanks!

CC
Notice how the Clinton lackey went out of his way to defend Clinton and act as her advocate?

Notice how he went out of his way to tell Clinton's spokesman how he's going to do his job?

I guess he was hoping the Clinton camp would give him a pat on the head and send him great "exclusives" like what merchandise will be for sale next in the Clinton campaign store.

A look at Campbell's article archives shows he wrote almost exclusively anti-Trump propaganda.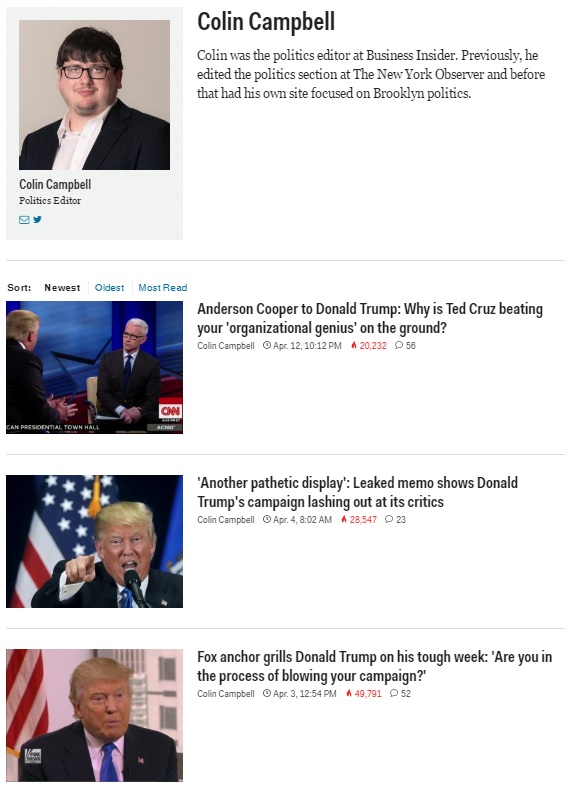 A look at Yahoo News where he's currently Deputy Politics Editor similarly shows extreme anti-Trump, pro-Clinton bias.

Follow InformationLiberation on Twitter and Facebook.