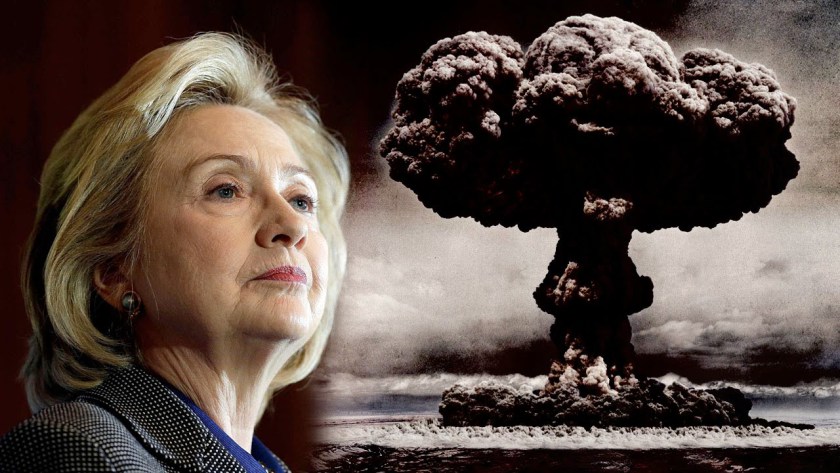 Green party candidate Jill Stein is warning Americans that Hillary Clinton's "declared policy in Syria" could slide us "into a nuclear war" with Russia.

From RCP:

It is now Hillary Clinton that wants to start an air war with Russia over Syria by calling for a no fly zone.

We have 2000 nuclear missiles on hairtrigger alert. They are saying we are closer to a nuclear war than we have ever been.

Under Hillary Clinton, we could slide into nuclear war very quickly from her declared policy in Syria.
I sure won't sleep well at night if Donald Trump is elected, but I sure won't sleep well at night if Hillary Clinton elected. We have another choice other than these two candidates who are both promoting lethal policies.

On the issue of war and nuclear weapons, it is actually Hillary's policies which are much scarier than Donald Trump who does not want to go to war with Russia.

He wants to seek modes of working together, which is the route that we need to follow not to go into confrontation and nuclear war with Russia.
If you're not yet familiar, Hillary's policy in Syria is to support rebel groups, which invariably includes ISIS, in overthrowing Assad. She and the current Obama regime claim they want to stop ISIS as well, but it's a fact the arms they send to rebel groups flow straight into ISIS's hands. While their official policy is to both overthrow Assad and kill ISIS, in practice they're just supporting ISIS and other rebels in overthrowing Assad.



It just so happens their foreign policy coincides perfectly with this powerful Israeli think-tank: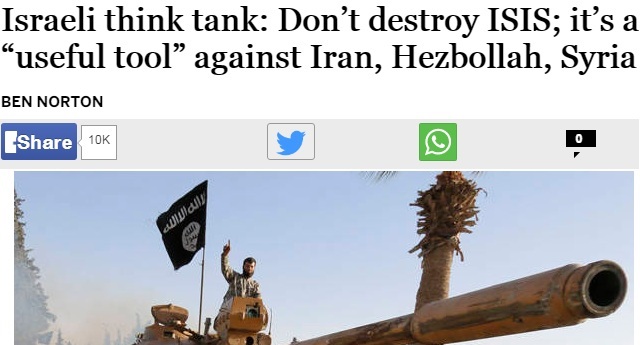 Just last month the US government conducted an airstrike on a group of Syrian fighters to help ISIS overrun one of their positions. The US then went on to accuse Russia of war crimes because children were getting hurt in their war with ISIS and other terrorist rebel groups. The female in charge of our foreign policy, Samantha Power, who is married to Cass Sunstein, cited a sad video she saw on the internet of a girl crying as justification for her smear.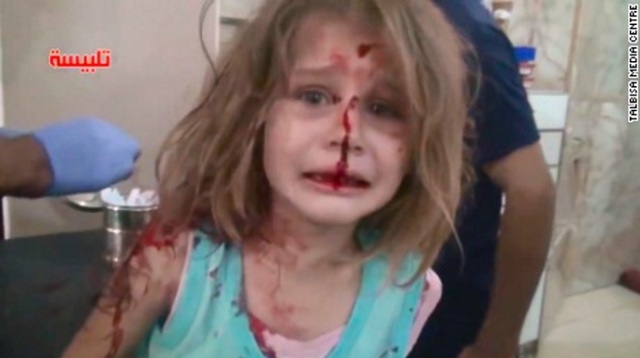 The latest video of a child suffering used to drum up support for war with Syria and potential nuclear war with Russia. Isn't it interesting how we never saw any videos like this of Iraqi children during the Iraq war? Pure coincidence, I'm sure.


Russia wants to kill ISIS and do so by supporting Assad. Trump has said he wants to do the same. This is a sane policy which would benefit America. Israel has "coincidentally" never been attacked by ISIS, and their think tanks are openly saying ISIS serves their interests, so they obviously don't give a sh*t.

Everyone with a brain is saying what Jill Stein and others are saying who don't want to die in a nuclear holocaust with a nation that should one of our greatest allies.

Putin supporter Vladimir Zhirinovsky just issued the same warning, the lying media misreported it as though he was threatening the US with a nuclear strike if we don't vote Trump when in reality he was just pointing out Hillary Clinton is a maniac intent on starting WW3.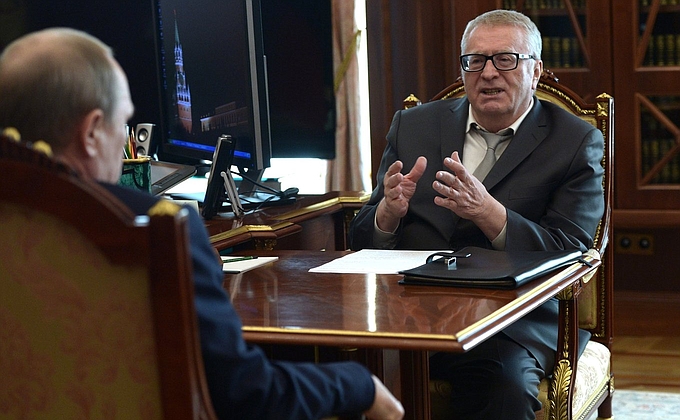 From Reuters, "Putin ally tells Americans: vote Trump or face nuclear war":

Americans should vote for Donald Trump as president next month or risk being dragged into a nuclear war, according to a Russian ultra-nationalist ally of President Vladimir Putin who likes to compare himself to the U.S. Republican candidate.

Vladimir Zhirinovsky, a flamboyant veteran lawmaker known for his fiery rhetoric, told Reuters in an interview that Trump was the only person able to de-escalate dangerous tensions between Moscow and Washington.

By contrast, Trump's Democratic rival Hillary Clinton could spark World War Three, said Zhirinovsky, who received a top state award from Putin after his pro-Kremlin Liberal Democratic Party of Russia (LDPR) came third in Russia's parliamentary election last month.

Many Russians regard Zhirinovsky as a clownish figure who makes outspoken statements to grab attention but he is also widely viewed as a faithful servant of Kremlin policy, sometimes used to float radical opinions to test public reaction.

"Relations between Russia and the United States can't get any worse. The only way they can get worse is if a war starts," said Zhirinovsky, speaking in his huge office on the 10th floor of Russia's State Duma, or lower house of parliament.

"Americans voting for a president on Nov. 8 must realize that they are voting for peace on Planet Earth if they vote for Trump. But if they vote for Hillary it's war. It will be a short movie. There will be Hiroshimas and Nagasakis everywhere."
[...]
"Trump will have a brilliant chance to make relations more peaceful ... He's the only one who can do this," he said, adding that Trump could even win a Nobel peace prize.

In contrast, Zhirinovsky described Clinton as "an evil mother-in law" and said her record as secretary of state under Obama in 2009-2013 showed she was unfit to lead her country.

"She craves power. Her view is that Hillary is the most important person on the planet, that America is an exceptional country, as Barack Obama said," said Zhirinovsky. "That's dangerous. She could start a nuclear war."

In typically chauvinistic remarks, Zhirinovsky said Clinton's gender should also bar her from the presidency.

"Most Americans should choose Trump because men have been leading for millions of year. You can't take the risk of having one of the richest, most powerful countries led by a woman president," he said.

Asked about lewd comments Trump made about women in 2005 that have harmed his campaign, Zhirinovsky defended the Republican: "Men all round the world sometimes say such things that are just for their comrades. We must only consider his business (and political) qualities."

Though Putin and Trump have never met, Zhirinovsky said he believed they could establish a close working relationship, adding: "Victory for Trump would be a gift to humanity. But if Hillary Clinton wins it will be the last U.S. president ever."
This man is absolutely right.

Our experiment with liberalism may literally end in a nuclear holocaust.

But hey, Trump said he likes to grab pussy, so I guess that's more important.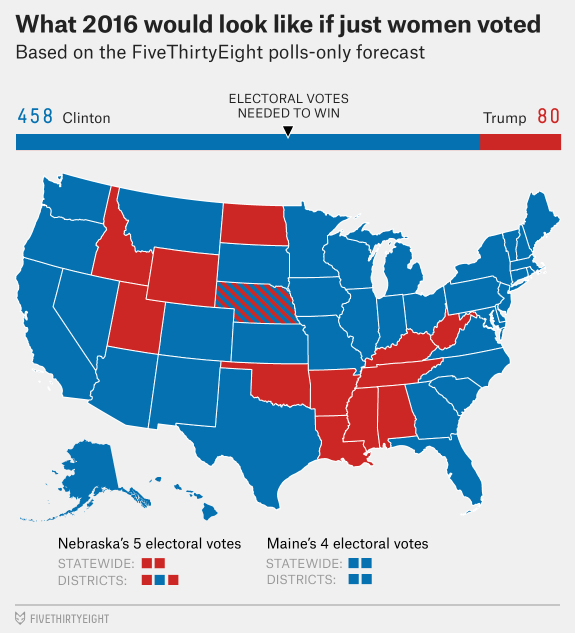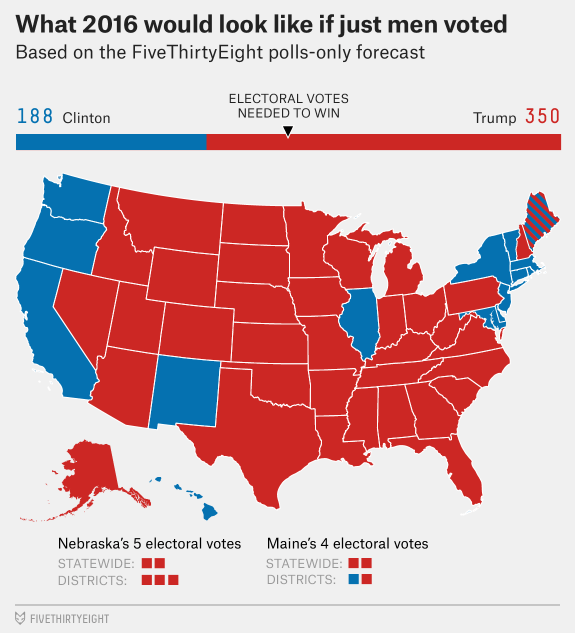 Follow InformationLiberation on Twitter and Facebook.