#FreeRicky: Twitter Suspends Leading Alt-Right Trump Supporter Ricky Vaughn
Chris Menahan
InformationLiberation
Oct. 05, 2016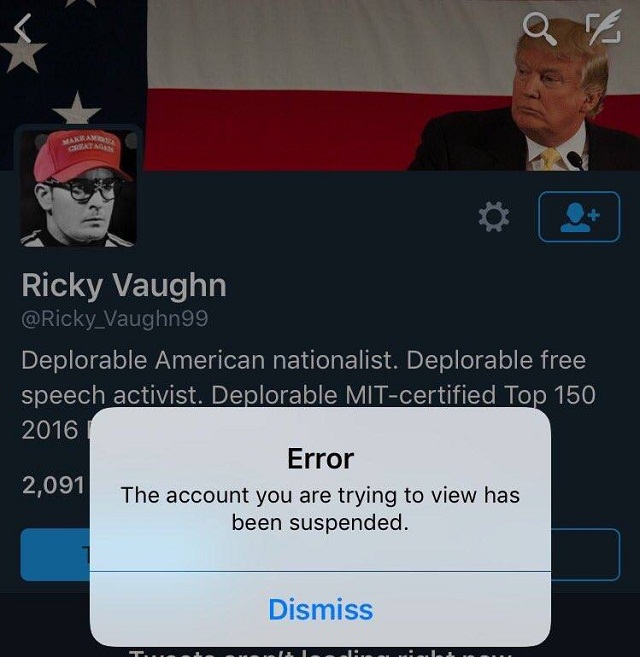 Twitter has suspended the account of leading alt-right figure and massive Trump supporter "Ricky Vaughn."

Vaughn (@Ricky_Vaughn99) was certified by MIT earlier this year to be one of the top 150 election influencers on Twitter, beating out NBC News, Stephen Colbert, Bill Maher, Drudge Report, Michael Bloomberg, CBS News and others.

At the time of his suspension he had over 62,000 followers.

His tweets have been featured in the New York Times, The Daily Beast, The New Republic, and on the cover of The Scottish Sun.

Vaughn said on his Facebook his suspension was done without explanation, though he's lodged an appeal.



Shortly after he was suspended #FreeRicky became the number one hashtag trending on Twitter:



This underscores the importance of people setting up their own websites rather than being dependent on hostile social media platforms, all of which oppose free speech, and all of which -- Facebook, Twitter, Google and YouTube -- are doing everything they can to take down Donald Trump and get Hillary Clinton elected.

Earlier this year after Trump appointed former Breitbart executive chairman Steve Bannon to head his campaign, Hillary Clinton's camp sent out an email saying popular right-wing news site Breitbart has no "right to exist."

You can bet if she's elected she will do everything in her power to shut down right-wing media, pass hate speech laws and restrict the First Amendment.

Follow InformationLiberation on Twitter and Facebook.