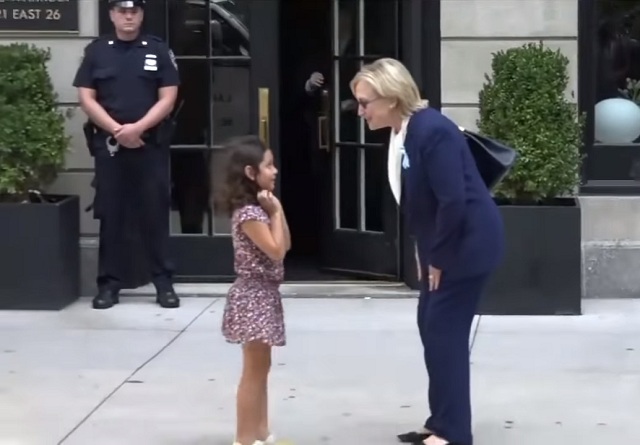 After Hillary Clinton's campaign failed to provide an explanation for her leaving early from a September 11th commemoration ceremony yesterday, they released a statement saying she was simply "overheated."

After video surfaced of her collapsing and being dragged into an SUV, they released another statement saying she was diagnosed with pneumonia on Friday and became "overheated and dehydrated" at Sunday's event.

Despite having a potentially contagious disease, she took part in what's being called a staged photo-op with a small child outside of Chelsea Clinton's apartment hours after her "medical episode."

Video shows Hillary placing her hands a little girl's shoulders and getting in close with her for a tight shot.



Here's the video from a second angle where you can see the girl coming towards her and a photographer exclaiming, "for Christ's sake."



Small children and the elderly are particularly vulnerable to pneumonia.

As WebMD notes (via The American Mirror:

"Walking pneumonia" sounds like it could be a character in a sci-fi horror flick. Although this form of infectious pneumonia can make you miserable, it's actually the least scary kind of pneumonia. That's because it's a mild pneumonia and does not generally require hospitalization. You could have walking pneumonia and not even know it. …

And, even though the disease is contagious, it spreads slowly. The contagious period in most cases lasts less than 10 days. Researchers also think it takes prolonged close contact with an infected person for someone else to develop walking pneumonia; still, there are widespread outbreaks every four to eight years.
If Hillary has pneumonia, she potentially just spread it to a small child. If she doesn't, her doctor lied.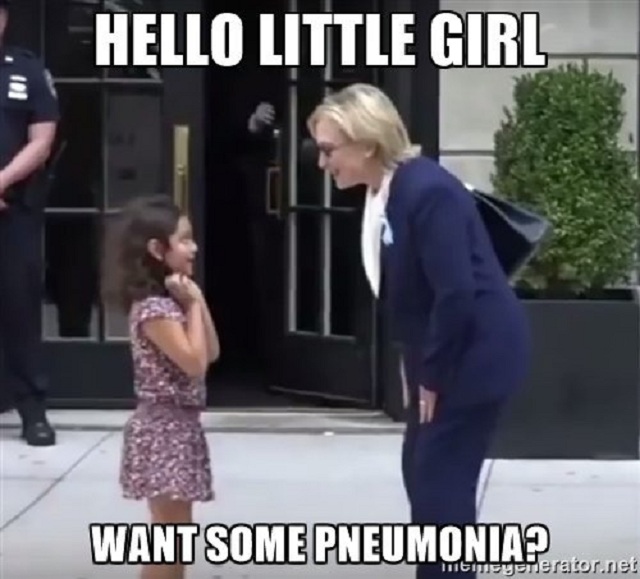 Follow InformationLiberation on Twitter and Facebook.