Leftist Agitator Filmed Attacking Right-Wing Protester in CA is Middle School Teacher
Chris Menahan
InformationLiberation
Jun. 29, 2016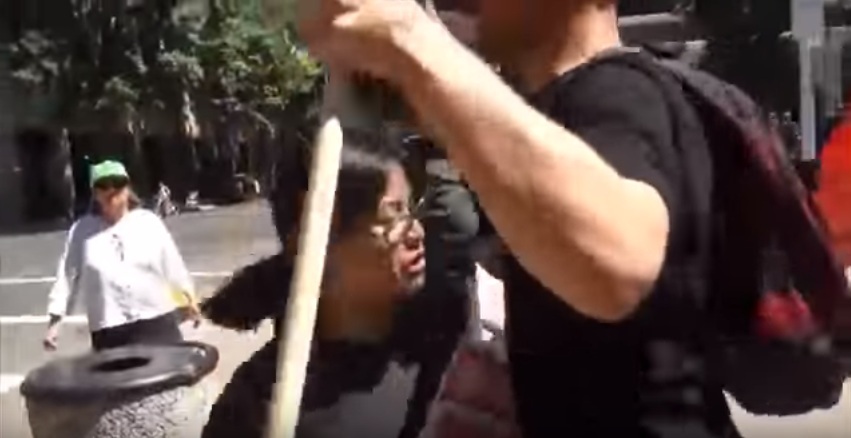 Leftist agitator Yvette Felarca -- who was seen all over TV advocating for the use of violence to shut down free speech during protests Sunday in Sacramento -- was caught initiating violence against a peaceful protester.

Video from the rally shows Felarca repeatedly punch a young male protester while screaming vulgarities and ordering the man to "get the f*ck off our streets."

WATCH:



[Assault happens at 4:00]

Felarca was acting as a representative for the far-left group "By Any Means Necessary," which the FBI has labeled as a domestic terrorist group.

Amazingly, Felarca is currently a school teacher at MLK Middle School in Berkeley, California.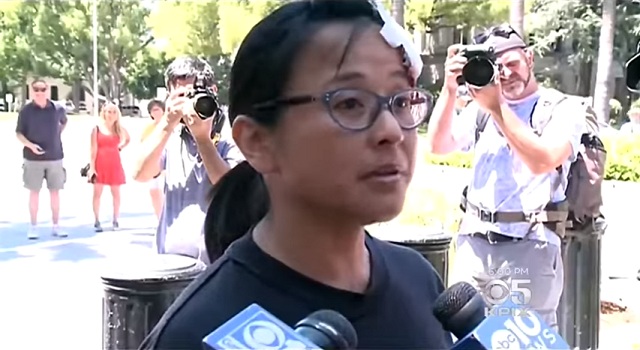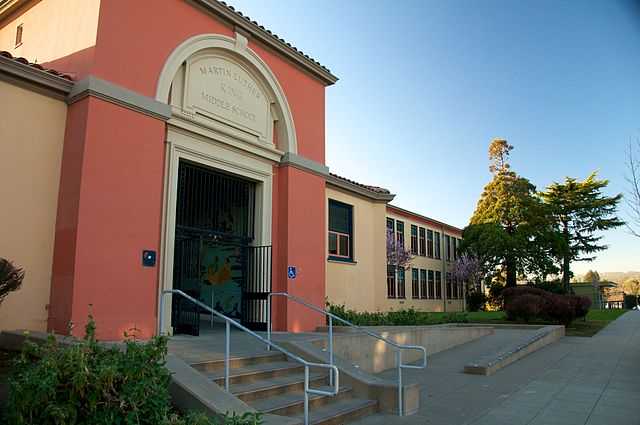 Despite video of her violent actions being caught on tape and triggering outrage among local parents, the spokesperson for the school district said she's facing no discipline.

Instead, they're acting as though she's some sort of victim because one letter among many sent to the school district was allegedly threatening (odds are she sent it herself).

From SFGate:

Security at a Berkeley middle school was beefed up after the principal received a "vulgar and poorly written" email threat over a teacher's involvement in a counterprotest to a neo-Nazi rally at the state Capitol building in Sacramento over the weekend that turned into a bloody melee.

The anonymous threat, emailed Sunday to Principal Janet Levenson of Martin Luther King Jr. Middle School, demanded that she fire teacher Yvette Felarca in a week — or else someone would go to the school and harm children, officials said.

..."I am disgusted and condemn these attacks on myself and the children, the faculty and staff at my school," Felarca wrote Tuesday in a Facebook post.

The emailed threat sent to Levenson was turned over to Berkeley police detectives, who contacted the FBI, said Mark Coplan, spokesman for the Berkeley Unified School District.

"It was a vulgar and poorly written anonymous email," Coplan said Tuesday. He said the FBI analyzed the email and deemed it a "low-level threat."

"We've received lots of calls from parents and community members concerned about what we are doing to protect students," Coplan said.

He said Berkeley police officials have posted an officer at the school on the 1700 block of Rose Street in North Berkeley, and the school district has sent extra security guards to the campus. He said that school let out for summer break June 17 and that two summer camps that have been using the campus were moved to other facilities.

Coplan said Felarca faces no discipline.

"We're just telling people this is in no way related to her work at the school," Coplan said.
This woman is obviously extremely unstable and is a threat to the children she teaches. Her "activism" consists of threatening people with violence and carrying out violence against them to suppress their political views, this is textbook definition of terrorism.





If the school doesn't fire this woman, they should be charged for harboring a terrorist.

Follow InformationLiberation on Twitter and Facebook.