Trump Entertains Scalia Murder Conspiracy Theory
Frontrunner says it is "pretty unusual" Justice was found with pillow on his face.
Steve Watson
Infowars
Feb. 17, 2016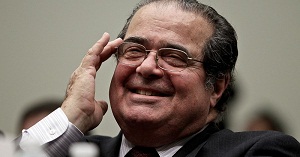 Donald Trump has responded to the theory that Justice Antonin Scalia could have been murdered, saying that the circumstances of his death seem "pretty unusual".

Speaking with talk radio host Michael Savage, Trump broached the topic with caution.

"Donald, I need to come back to the topic we've all been screaming about here, which is Scalia, was he murdered," Savage asked.

"I know it's pretty brutal to say that, and I'm not wanting to drag you into this, but this is going to be bigger and bigger and bigger." the radio host surmised.

"I went on the air and said we need the equivalent of a Warren Commission, we need an immediate autopsy before the body is disposed of. What do you think of that?" Savage further questioned.



Trump suggested that he does not yet know enough to give a definitive answer, but noted "Well I just heard today… you know I just landed and I'm hearing it's a big topic."

"They say they found a pillow on his face, which is a pretty unusual place to find a pillow," Trump said. "I can't tell you– I can't give you an answer."

"Let me not try to drag you into something you haven't studied, because I don't think it would be fair to you and to the audience," Savage responded. "I think after you look into these facts, Donald, you yourself will have to come to some different conclusions than you may think."

As Infowars reported earlier in the week, a poll conducted by the Conservative Outfitters website finds that 79% of its readers suspect "foul play" was involved in the Scalia's death.

Questions continue to swirl over the confusing circumstances surrounding Scalia's death after his body was quickly embalmed following the decision not to conduct an autopsy.