Rubio Camp Calls Breitbart Conspiracy Theorists For Pointing Out Fox Debate Chief's Daughter Works For Rubio
Breitbart
Jan. 28, 2016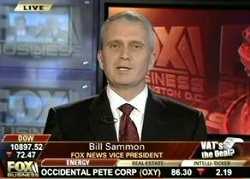 Via Breitbart:

DES MOINES, Iowa -- Corey Lewandowski, the campaign manager for 2016 GOP frontrunner Donald Trump, exposed a blatant conflict of interest on Wednesday that the Fox News Channel has been hiding for months. Lewandowski showed how Fox News has been hiding the fact that Fox News Channel Vice President Bill Sammon has a daughter working for the campaign of the Washington establishment-backed Sen. Marco Rubio (R-FL).

Sammon's daughter, Brooke Sammon, is Rubio's national press secretary, and obviously both have a vested interest in the success of the Rubio campaign and the demise of the other campaigns.

CNN's Erin Burnett asked Lewandowski about Fox News's controversial anti-Trump statement from Tuesday evening--and specifically the network's claim that the top Trump aide had allegedly made threats against Fox News anchor and Thursday debate co-moderator Megyn Kelly--when he responded by dropping the explosive revelation.

Lewandowski revealed two things for the first time: that the executive he was discussing matters with was Bill Sammon, and that Sammon's daughter Brooke Sammon works for Rubio's campaign, giving the first-term Floridian Senator an obvious boost. That blatant conflict of interest has never before been disclosed to the viewers of Fox News by the network.

"Not only did I not make threats, but the conversation with the Fox News executive--his daughter works for the Rubio campaign, he's one of the executives on Fox that writes the debate questions so maybe he has his own ulterior motives, I'm not sure," Lewandowski told Burnett in the Wednesday evening CNN interview. He went on:

But his daughter is a senior executive on the Rubio campaign, maybe he should disclose that before he's writing the debate questions for Fox. There were no threats made. The bottom line is this isn't about me and it's not about Megyn Kelly. It's about the way that Fox News put out a statement about Mr. Trump that's wholly inaccurate and unfair and it's very difficult to treat someone fairly when they're the GOP frontrunner when you put out a statement like that.
When Burnett followed up, Lewandowski doubled down. "What I said was the Fox News executive who oversees the debate process, their daughter is a senior executive on the Marco Rubio campaign--is what I said," the Trump campaign manager said.

A Fox News spokesperson has not responded to Breitbart News's requests for comment throughout the day on Wednesday. A Rubio spokesman, communications director Alex Conant, responded to a Breitbart News inquiry on this matter by standing up for Brooke Sammon and questioning Breitbart News's integrity.

"It's no secret Breitbart traffics in conspiracy theories, but this accusation is a whole new level of crazy," Conant said in an email. "Brooke is a star of our campaign and her integrity and professionalism is second to none. If you're worried about someone's integrity, you should do some serious self examination."

Conant has not answered a pair of follow-up questions. One question Conant won't answer centers specifically on whether Brooke Sammon has ever in any way communicated with her father about the Rubio campaign–including regarding debate matters. The other question Conant won't answer is why, if "Breitbart traffics in conspiracy theories," Sen. Rubio's campaign provides Breitbart News with exclusives like the one earlier on Wednesday about his new ad targeting Evangelical voters.

Read More