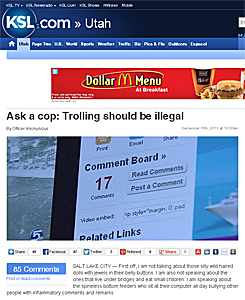 An anonymous police officer writing for Salt Lake City's KSL.com penned a bizarre editorial calling for the end of anonymity on the internet. "Officer Anonymous" says everyone who wants to post comments online should be forced to register their email with the government in person at the DMV and be cataloged in a national database. The officer says this will end the problem of "trolling" and people "hiding behind the Internet."

From KSL.com's "Ask a cop" column titled, "Trolling should be illegal":

SALT LAKE CITY — First off, I am not talking about those silly wild haired dolls with jewels in their belly buttons. I am also not speaking about the ones that live under bridges and eat small children. I am speaking about the spineless bottom feeders who sit at their computer all day bullying other people with inflammatory comments and remarks.

A troll's sole purpose in life is to comment about an article, statement, question in a forum or other Internet venue so that comment will upset the target person or persons to the point where they are yelling at their computer and punching the monitor.
...
A troll thrives on a back and forth argument where one ultimately challenges the other to a fist fight or threatens to find out where the other person lives so they can settle this in person. These arguments tend to be typed in all caps lock. There are professional troll organizations where this becomes a quasi profession. Lame, I know.
...
So why should trolls go to jail? They are causing or inciting a riot plain and simple. The sole purpose is to upset as many people as possible through malicious or deceptive statements. They then sit back and watch the carnage. There is no benefit to anyone except themselves. The victims of these trolls are upset the rest of the day. They are driving aggressively on the roads, yelling at their co-workers and being consumed with a way to find out who that person on the Internet was.

This is not good for public safety. This is why I think the only way to combat this is to change the way we run comment boards and forums. Anyone who wants to comment or post anything needs to do this with their official email address registered by the government. This will be verified in person at your local driver's license division. No more anonymity on the Internet. Every time you post anything, your picture and name will pop up.

You trolls can still keep your precious usernames like halochamp34 and doritoskiller709, but it will be tied to your official email, the one and only email you can have. No more fictional emails and no more hiding behind the Internet. If you want to make public comments and be in the public domain of the Internet, then you should be brave enough to show your actual face.

This would also take care of many other problems on the Internet, like fraud and phishing scams or having an online relationship with a fictional person (sorry Manti Te'o). You may not see the brave statements about how you are a third-degree black belt and 6'4" 230. Which is apparently the standard height, weight and skill of every person on call of duty.

How refreshing it would be to see who actually posted those racially charged comments. It would be interesting to see if they posted at all. Do you think those same people are making those same remarks in person? I don't think they are. It would take awhile for them to adjust to sunlight, or being around people. I bet it would be nice for their parents to have access to their basements again. They could finally put in that game room they always wanted.

You may be reading this, flabbergasted by my own hypocrisy. I am aware that I am writing these articles through the safety of anonymity. But if you guys are willing to come forward, then so am I. Let's break down the barriers of the Internet and come forward showing our true selves with no judgment. I can't wait to see the national email registry! [Emphasis added]
Let's address this officer's points one by one. First off, has anyone ever seen any evidence "trolling" has ever caused any specific riot? Despite this claim being the centerpiece of his article, he gives no evidence this has ever occurred.

Second, and again without evidence, the cop says "victims" of trolling are somehow forced to "drive aggressively" and made to "yell at their co-workers," because he says they're "being consumed with a way to find out who that person on the Internet was." Again, the officer provided no evidence for this claim. Not everyone reacts the same way to being verbally harassed.

Next comes his government registration scheme which he wants done in the name of "public safety." Again the officer lays out no plan for how this would be done. How could every last persons' email be registered with the government? How will every website be forced to require email and be tapped into the same government database? How does he imagine this will be enforced, and what makes him think there will be no way around his scheme and it will single-handedly end all anonymity?

Nonetheless, Officer Anonymous completely ignores the importance of victims of trolling being able to remain anonymous, imagine if every troll on every internet forum could look you up and know exactly who you are, that in itself is a nightmare, one this cop clearly never thought of. Blizzard Entertainment tried to roll out such a scheme on their Battle.net forum and dropped it like a hot potato after users revolted for those very same reasons. Imagine if on every medical forum where people talk about their private medical issues everyone was made to use their real name, how in the world would that contribute to human progress?

We have a laboratory which lacks anonymity and where everyone shows their face, it's called Facebook, and people sign up to it voluntarily rather than through force. Guess what, it's filled with trolls and even racists who don't give a damn about everyone knowing who they are. Let us go one step further, the "real world" is also filled with trolls and racists, and they don't care about being anonymous. Just because something happens "on the internet" doesn't mean it's a unique problem caused by the internet itself.

The anonymous cop ends his piece by saying he knows people may be "flabbergasted by [his] own hypocrisy" for writing his article from "the safety of anonymity," but he says "if you guys are willing to come forward, then so am I."

Indeed, I am flabbergasted by your hypocrisy. As you note, anonymity provides you with safety, a safety you want to deny others. Yet despite calling for its end, you're not even willing to lead by example. Instead, you limit your own commitment to your principles by tying them to the actions of the people you're condemning. "I'll only do what's right if people who are wrong do what is right first."

Good thing you are anonymous, because if you attached your real name to your article people would know what a complete and total hypocrite you are. No wonder you chose a job where you're exempt from the basic rules of human decency and civil society.
_
Chris runs the website InformationLiberation.com, you can read more of his writings here. Follow infolib on twitter here.