Indefinite Detention Without Trial: Completely Unconstitutional, Yet Routine
by Will Grigg
Dec. 26, 2012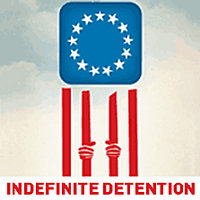 Seattle residents Matt Duran and Katherine Olejnik have been imprisoned in the SeaTac Federal Detention Center for weeks.

Neither of them has been indicted, arraigned, or even arrested for a crime. They have been imprisoned for civil contempt by a federal prosecutor for refusing to answer personal questions during a secretive grand jury investigation of other people in the Occupy movement.

During her examination by the prosecutor, Olejnik was asked about incidents of vandalism that took place in Seattle last May Day. She wasnít even in the city on that date. When the prosecutor began showing her photographs of people and inquiring about her political beliefs, Olejnik exercised her constitutionally protected right to remain silent. That is why she was sent to prison on the orders of U.S. District Judge Richard A. Jones. Duranís case is nearly identical. They may remain in prison until the grand juryís term expires in January 2014.

Duran and Olejnik are political prisoners in every sense of the expression. However, they are not the only Americans who are current being indefinitely detained without criminal charges.