SWAT Team Fires Semi-Automatic Weapons At Unarmed Teenage Girl
by RT
Nov. 18, 2012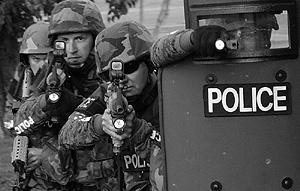 Members of a SWAT team opened fire on an unarmed teenage girl this week when police officers outside of Washington, DC attempted to serve an early morning search warrant.

Myasia Hughley, 18, is recovering from flesh wounds following Thursday morning's events in District Heights, Maryland. She was asleep in her bedroom at her family house when 15 FBI SWAT agents stormed the house with guns drawn.

"I'm shouting 'Nobody is armed, nobody has a gun!' and then all of a sudden I heard 'She's got a gun!' and they just opened fire," Emory Hughley, Myasia's father, tells local station WJLA News.

Myasia didn't have a gun, though, nor did any other member of the Hughley household. The authorities allegedly saw something, and in their minds had enough reason to unleash a barrage of bullets at the girl. Mr. Hughley tells Washington's NBC News4 that he saw one agent even fire off around seven shots himself using a semi-automatic weapon.

"They almost hit my daughter, man," he adds to WJLA. "If I hadn't told her to go back in her room they probably would have shot her."

"I've got eight holes in my wall. One bullet went past my head, almost hit me, ricocheted off my brick wall and some of the shrap metal hit my little daughter in the back of her neck, all for nothing."

The Hughleys are now asking for answers from the FBI, but so far the authorities have stayed silent as to why they were raiding the home. Mr. Hughley says a day later that he has yet to be told why his house was visited in the early morning hours by more than a dozen heavily armed FBI agents other than they were executing a search warrant. The FBI's Washington Field Office has deferred from answering pleas from the press to explain what the judge-approved order was for.