Thanks to police officer Enoch Clark, Beaumont, California resident Monique Hernandez will never see her ten-year-old daughter again.

On February 21, Clark conducted a traffic stop involving Hernandez, who was suspected of drunk driving. When Clark attempted to handcuff her, Hernandez resisted. The officer responded by using a JPX device -- a weapon that uses a gunpowder charge to fire a stream of pepper spray at roughly 400 miles an hour.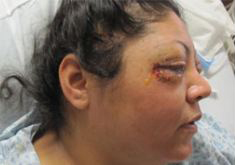 The JPX weapon is designed for use at a distance of 6 to 15 feet, and training presentations depict it being deployed against aggressive, armed assailants. Promotional literature for the JPX weapon -- which isn't categorized as a firearm, because it doesn't fire a projectile -- boasts of "devastating stopping power." The payload of weaponized OC spray is propelled over the prescribed distance at less than three one-hundredths of a second, making it "too fast to avoid.... The effect is immediate; there is no chance to resist."

Clark's attorney insists that the officer's attack was justified in order "to gain compliance and in defense of his person." The JPX is designed to incapacitate an aggressor at a distance. Clark -- who was armed and wearing body armor -- fired it into Hernandez's temple from a distance of roughly ten inches, blowing apart her right eye and leaving the left with severe, irreparable damage.

Anyone who had undergone rudimentary training with the JPX would understand that the weapon should not be fired directly into the head or face of a non-violent suspect. Clark's actions suggest that his intention was not to gain "compliance," but rather to inflict summary street punishment for "contempt of cop."

Hernandez was taken to the hospital and never charged. Following an investigation by the Riverside County Sherriff's office, a grand jury indicted Clark on four felony charges: Assault under color of authority, assault with a less lethal weapon, use of force causing severe bodily injury, and assault with force likely to cause severe bodily injury. Free on $50,000 bail, Clark faces up to 20 years in prison. At present, the officer -- who is chairman of the local police union -- was placed on administrative leave, which is to say that he was given a paid vacation.

Interestingly, the law firm representing Clark in his criminal trial is involving in a union lawsuit against Beaumont Police Chief Frank Coe, claiming that the chief retaliated against critics on in the department by denying them promotions, thereby leaving several positions vacant.

Tragically, the blinding of Monique Hernandez arose out of a domestic disturbance that led to a 911 call. Two officers responded to the call, one of whom reportedly witnessed the assault while speaking with Hernandez's family.

It should be remembered that any time someone calls for police "assistance," he's inviting the intervention of people who consider themselves licensed to inflict potentially lethal violence as punishment for non-compliance. It should be assumed that if the police get involved, somebody is going to be needlessly injured or killed.
_
William Norman Grigg [send him mail] publishes the Pro Libertate blog and hosts the Pro Libertate radio program.