Man At Bar Ribs Cop 'Aw, You Suck At Darts,' Cop Responds 'I Can Do Whatever I Want,' Pulls Out Gun & Executes Him
Chris | InformationLiberation
Dec. 23, 2011



A man at a bar in Murrieta, California ribbed an off-duty cop that he 'suck[ed] at darts,' the cop, 42-year-old Dayle Long, reportedly responded by pulling out a gun and executing him in front of a shocked crowd in an incident one man described as 'the most horrific scene I've seen in my entire life.'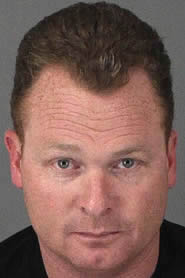 Patch.com reports:

Chris Hull, a 39-year-old Temecula resident, said he was inside the bar and saw the shooting happen.

Hull said he witnessed a man walking up while Hull and a group of friends were playing darts. The man reportedly identified himself as an off-duty cop and started a discussion with the group about darts.

"We were playing darts, and he says 'I'm better at darts than you are,"' Hull said.

"My buddy says, 'Aw, you suck at darts.' (The man) says, 'That's why I'm a cop, I can do whatever I want to do.'"

Hull said his friend, identified only as Danny, asked the man, "Really, you can do anything?" The man then pulled out his gun, Hull said, and after the group repeatedly asked him to put it away he "pops three rounds into my friend Sam."

Hull identified his friend as Sam Venettes. He didn't answer a request for Vanette's age or hometown, but said he was a "hardworking guy" who "works three jobs."

Police have not released any information on the name of the victim.

"I just watched the most horrific scene I've seen in my entire life," Hull told Patch.

"This is the worst day of my life."
It should be noted, the cop was a 10-year veteran of the force.

Update: This article was posted to Reddit and is now on the front page. There is a huge comment thread with tons of great comments, check out this comment from the Patch.com reporter which has tons of new details and confirms the witness' account as accurate.