Cop's K-9 Runs Wild And Attacks Innocent 13-Yr-Old Girl
Concord authorities probe police-dog bite case
By RAY CARBONE
New Hampshire Union Leader
Jul. 12, 2010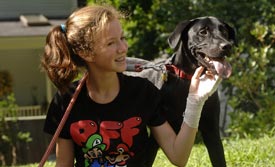 Frances Burke-Bevis, 13, with the family dog, Georgie, Friday. Frances was bitten when a police dog attacked her pet Thursday. (THOMAS ROY)

CONCORD – Concord police were at the home of 13-year-old Frances Burke-Bevis yesterday to gather information for an official report after the youngster was bitten by a New Hampshire State Police drug-sniffing dog in her Warren Street neighborhood Thursday morning.

"It's about time," said Kelly Burke, the girl's mother. She said the police agreed to file the report only after it was suggested by her husband and Frances' father, Mark Bevis. Bevis is news director for New Hampshire Public Radio.

On Friday, Maj. Russell Conte of the State Police admitted that a German shepherd K-9, which was in the area to aid Concord police with a drug investigation, charged across the road and attacked Burke-Bevis' pet.

The girl, attempting to protect her dog, was bitten several times on her left arm and hand. Conte said the incident is under investigation by the department and that State Police have been in touch with the victim's family.

In related news, Sgt. Jim Berry of the Concord police released addition information about two people central to the drug investigation, which came on the heels of a reported accident after their car ran into a utility pole on Warren Street.

Jessica Caseley, who was identified as the driver, is 26 years old and a resident of Mansfield, Mass. Berry said she was hospitalized and later arrested for DWI and multiple other charges.

Berry identified the passenger as Jessica Malin of Concord. She was not arrested but may face charges after the testing of what appears to be drugs found at the accident scene is completed at the state's forensics laboratory, he said.

"That's months away," Berry said. "That's how far the state crime lab it backed up."