---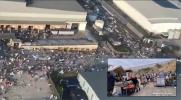 Food, Fuel And Water Supplies in Jeopardy As Looting And Rioting Spreads in South Africa
Widespread rioting and looting is threatening to bring the "Rainbow Nation" to the brink of oblivion.
... (more)

---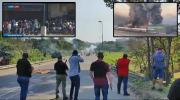 Mass Rioting And Looting Breaks Out In South Africa
The Rainbow Nation is falling apart along racial lines.
... (more)

---
Georgian Protesters Storm LGBT Office, Tear Down Pride Flags And Replace Them With National Flag
Georgian protesters on Monday forced the cancellation of an LGBT pride march after storming the office of an LGBT lobby group, tearing down their pride flags and replacing them with Georgia's national flag.
... (more)

---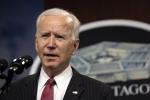 Biden Regime Bombed Syria And Iraq In 'Self-Defense,' Pentagon Spokesman John Kirby Says
America has the right to "defend" itself by bombing alleged "Iran-backed militias" in Syria and Iraq, so said Pentagon spokesman John Kirby on Sunday.
... (more)

---
---
---
---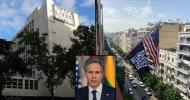 U.S. Embassies Fly BLM Flags In Greece, Spain, Cambodia And Bosnia After Push From State Dept Head Antony Blinken
US embassies in Greece, Spain, Cambodia and Bosnia have put up Black Lives Matter flags after being encouraged to show support for the movement in a secret memo from State Department head Antony Blinken.
... (more)

WATCH: Nick Fuentes Debates Robert Barnes On Israel, Post-Debate Callers Go Off...
---
---

Biden to Replenish Israel's Iron Dome Missile Supply in Addition to Sending $735M in Arms
Joe Biden has agreed to arm Israel to the teeth and replenish their Iron Dome missile supply as "Israel has the right to defend itself" but indicated the people of Gaza will only get US aid if they give up their right to defend themselves and accept being conquered.
... (more)

---
---

Biden Approves Sale Of $735M In Missiles to Israel, Including Same Type Used to Strike Gaza Tower
The Biden regime has signed off on the sale of $735 million in precision-guide missiles to Israel, including the exact type used to blow up a civilian tower housing international media outlets and others in Gaza.
... (more)

---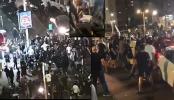 Palestinian 'Lynched' In The Streets By 'Zionist Mob,' Beaten With Israeli Flags
"Zionist mobs" were filmed "lynching" Palestinians in the streets, smashing up their businesses and and chanting "Death to Arabs" during the third day of intensifying war between Israelis and Palestinians.
... (more)

Israel Rejects Hamas Truce Offer...
---
Freed Traitor Jonathan Pollard Calls Biden Admin An 'Enemy' That Must Be Destroyed In Keynote Speech
Jonathan Pollard on Monday delivered a keynote speech at a prominent yeshiva in Israel as part of a Jerusalem Day gala where he called for the Biden administration and officials in the State Department to be destroyed for being insufficiently pro-Israel.
... (more)

---
'Unreal Two Minutes': Gazan Man Stands And Films As Israeli Airstrikes Rain Down In His Neighborhood
A Gazan man stood and filmed for an "unreal two minutes" as Israeli airstrikes rained down in his neighborhood and appeared to be rapidly approaching his apartment.
... (more)

---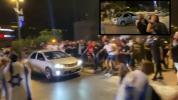 Mayor Of Lod, Israel: 'We Have Completely Lost Control Of The City And The Streets Are Witnessing A Civil War Between Arabs And Jews'
Yair Revivo, the Mayor of Lod, Israel said Tuesday that the Israeli government has "lost control of the city and the streets" and demanded the military be deployed to stop a "civil war between Arabs and Jews."
... (more)

---
'May Their Progeny Be Erased!' Israelis Celebrate As Fire Rages Near Al-Aqsa Mosque On Jerusalem Day
Israelis were filmed celebrating Monday night on Jerusalem Day at the Western Wall by singing for God to "take vengeance on the Palestinians" and "erase" them and their "progeny" from all of history.
... (more)

---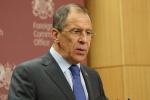 Russia Warns Of Increasing 'Anti-White Racism' In U.S.
"Russian Foreign Minister Sergei Lavrov on Thursday warned that anti-white racism might be building in the United States and said that political correctness 'taken to the extreme' would have lamentable consequences," AFP reports.
... (more)

---
Freed Traitor Jonathan Pollard Stabs America In The Back Once Again
Jonathan Pollard, a US-born Jewish-American Naval intelligence analyst who stole massive troves of US military secrets and sold them to Israel, was allowed to flee America late last year by Attorney General William Barr's Department of Justice to "make aliyah" in Israel.
... (more)

---
Chinese Diplomat Humiliates Biden Team During Talks On U.S. Soil: You're Not Speaking To China 'From A Position Of Strength!'
China's top diplomat humiliated Secretary of State Antony Blinken during talks in Alaska on Thursday and the media is refusing to cover the event in full lest the American people be allowed to witness the global realignment taking place.
... (more)

---
---
---
---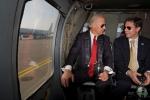 Biden Regime Launches Air Strike in Syria - Moves to Stay in Iraq 'Forever'
The Biden regime has only been in power for one month and they're already bombing Syria.
... (more)

---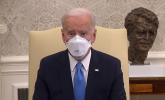 Reports: Biden Regime Setting Up New Military Base in Syria
The Biden regime is setting up a new Coalition military base in northeastern Syria at the Iraq-Syria-Turkey triangle, according to reports.
... (more)

---

China Bans BBC World News to 'Send a Clear Signal That Fake News is Not Tolerated'
Chinese state media outlet Global Times on Thursday night announced that China is banning BBC World News from the airwaves due to their "fake news" and relentless "falsified reporting."
... (more)

---
Israel Threatens to Abandon America, Ally With China And Russia After Securing $40B In U.S. Aid
Knesset member Ayoob Kara, who is part of Israeli PM Benjamin Netanyahu's Likud party, on Tuesday threatened that Israel is prepared to abandon America and ally with China and Russia if Biden "reneges on America's recognition of Israeli sovereignty over the Golan Heights and signs a nuclear deal with Iran."
... (more)

---
---
Israel Assassinates Iranian Nuclear Scientist Near Tehran
Iranian nuclear scientist Mohsen Fakhrizadeh was assassinated in a Mossad hit on Friday while driving down the street in his own country in a suburb near their capital of Tehran.
... (more)

---