Biden Regime Poised to Allow Israelis to Travel to U.S. Without Visa, Despite Escalating Human Rights Abuses

The Biden regime is poised to allow Israeli citizens to travel to the US without a US visa, despite Israel's escalating human rights abuses against Christians in the Holy Land and the expansion of settlements in the West Bank.
... (more)

---
Putin: Trump Prosecution is the Persecution of a Political Opponent
Russian President Vladimir Putin said Tuesday that the prosecution of former President Donald Trump "shows the rottenness of the American political system" which "cannot pretend to teach others about democracy."
... (more)

---
VIDEO: Jewish Children Attack Christian Missionaries in Israel
Shocking video going viral on social media shows a large group of Jewish children cursing and assaulting two Christian female missionaries in Israel with their adult caretakers' full support.
... (more)

---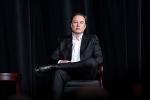 Elon Musk Denied Request to Turn On Starlink to Facilitate Ukrainian Drone Attack on Crimea [UPDATED]
UPDATE: Both Walter Isaacson and Elon Musk confirmed that Musk denied a Ukrainian government request to turn on additional Starlink coverage to facilitate a drone attack on Crimea.
... (more)

---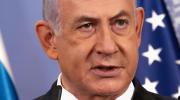 Netanyahu Announces Plan to Deport All African Migrants from Israel, ADL Remains Silent
Israeli Prime Minister Benjamin Netanyahu has ordered his cabinet to draw up plans to deport all African migrants from Israel and the Anti-Defamation League has nothing to say about it.
... (more)

---
---
Nikki Haley Slams Vivek Ramaswamy For Proposing Cutting Aid to Israel in 2028
GOP presidential hopeful Nimrata "Nikki Haley" Randhawa threw a fit on Monday over fellow Republican presidential candidate Vivek Ramaswamy's proposal to cut aid to Israel in 2028.
... (more)

---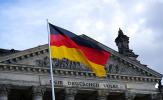 German Govt Threatens to Ban Surging AfD Party to 'Defend Democracy'
The German government is threatening to ban the Alternative for Germany (AfD) for getting too popular in the polls.
... (more)

---
U.S. Pressured Pakistan to Oust Imran Khan Over 'Aggressively Neutral' Stance on Ukraine, Docs Reveal
The US State Department pressured Pakistan to remove Prime Minister Imran Khan from power over his "aggressively neutral position" on the Ukraine-Russia war, a leaked cable reveals.
... (more)

---
Ukrainian 'Kill Teams' Using U.S.-Supplied Black Hawks to 'Carry Out Assassinations Inside of Russia'
Ukrainian special forces "kill teams" are using US-supplied Black Hawk helicopters to carry out cross-border assassinations inside of Russia, according to a new report from The Times.
... (more)

---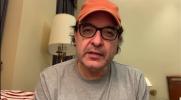 Gonzalo Lira Was 'Stopped On The Ukrainian Side of The Border From Crossing And Has Since Disappeared,' Friend Says
Writer and journalist Gonzalo Lira was blocked at the border from fleeing Ukraine and has since "disappeared," according to his friend Mark Sleboda.
... (more)

---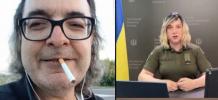 Gonzalo Lira Tries to Flee Ukraine And Claim Asylum, Trans Ukraine Sgt Suggests SBU Caught Him
Writer and journalist Gonzalo Lira, a citizen of both the US and Chile who was arrested in May in Ukraine for criticizing the Zelensky regime, attempted to flee the country on Monday and claim asylum in Hungary.
... (more)

---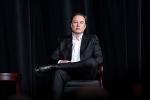 Elon Musk: 'They Are Openly Pushing for Genocide of White People in South Africa'
Twitter CEO Elon Musk on Monday expressed outrage over a South African black party "openly pushing for genocide of white people" during a giant rally at a sports stadium over the weekend in Johannesburg.
... (more)

---
---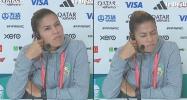 BBC Apologizes for Asking Morocco Women's Team Captain If Any of Her Players Are 'Gay'
The BBC on Monday apologized for one of their reporters demanding to know which, if any, members of the Morocco women's national soccer team are "gay."
... (more)

---
VIDEO: Israeli Official Orders German Abbot to Hide His Cross While Visiting Western Wall
Viral video shows a Catholic German abbot being ordered by an Israeli official to hide his cross while visiting the Western Wall in Jerusalem.
... (more)

---

Biden Orders 3,000 Reservists to be Ready for Deployment in Europe for 'Russia Deterrence'
The Biden regime's war on Russia expanded further on Thursday with the Pentagon being authorized to "mobilize up to 3,000 military reservists for duty in Europe" in order to "deter Russia" and "reassure NATO allies," The Washington Post reports.
... (more)

---

El Salvador President Bukele's Wildly Popular Gang Crackdown is Reducing Illegal Immigration to U.S.
President Nayib Bukele's successful crackdown on MS-13 gang members has led to a dramatic reduction in the number of Salvadorans illegally crossing our southern border, the Wall Street Journal reports.
... (more)

---
"We've Run Out of Ammunition": Biden Explains Decision to Send Cluster Bombs to Ukraine
Joe Biden blurted out to reporters on Sunday that his decision to send widely-banned cluster bombs to Ukraine was made because "we've run out of ammunition."
... (more)

---
Pope Francis Meets With Bill Clinton and Alex Soros at the Vatican
Pope Francis met with former president Bill Clinton and George Soros' son Alex Soros on Wednesday in a "private audience" at the Vatican.
... (more)

---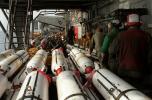 Report: U.S. to Send Widely-Banned Cluster Bombs to Ukraine
The Biden regime is sending Ukraine widely-banned cluster munitions as part of their latest $800 million aid package, Reuters reports.
... (more)

---

REVEALED: Inside Wagner Chief Yevgeny Prigozhin's Lavish St Petersburg Mansion
Photos from inside Wagner chief Yevgeny Prigozhin's decked-out mansion were released on Wednesday by Russian media.
... (more)

---
"I Do Not Know The Plans of Our Govt, But It Looks Like The Extermination of Its Own Population"
The Zelensky regime's goal in Ukraine appears to be "the extermination of its own population," according to a Ukrainian soldier who served on the frontlines in Bakhmut.
... (more)

---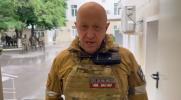 Prigozhin Says He Ended 'March' to Avoid 'Shedding Russian Blood,' Claims He Wasn't Trying to Overthrow Putin
Yevgeny Prigozhin on Monday laid out his reasons for halting Wagner's "March for Justice" in his first public statement following his failed "mutiny."
... (more)

---
Video Confirms Prigozhin Leaving Rostov, Kremlin Claims He 'Will Go to Belarus' as Part of Deal
Wagner Chief Yevgeny Prigozhin was filmed leaving Rostov on Saturday after making a deal with the Kremlin which reportedly includes his exiting the country for Belarus.
... (more)

---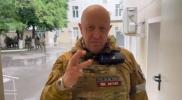 Prigozhin Ends 'March' on Moscow to Avert 'Bloodbath,' Agrees to Withdraw Forces
Wagner Chief Yevgeny Prigozhin on Saturday agreed to end his "March of Justice" to avoid widespread bloodshed in Moscow after speaking with Belarusian President Alexander Lukashenko and making a deal.
... (more)

---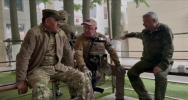 Prigozhin Demands Meeting With Defense Minister Shoigu and General Gerasimov After His Forces Surround MoD Building
Wagner Chief Yevgeny Prigozhin is on the ground in Rostov at the Ministry of Defense's Southern Military District headquarters and demanding a meeting with Defense Minister Sergei Shoigu and Chief of the General Staff Valery Gerasimov.
... (more)

---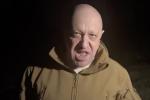 Putin 'Moved to Secure Location' After Wagner Chief Prigozhin Threatens Military Coup to Overthrow Russian MoD
Wagner Chief Yevgeny Prigozhin on Friday threatened to stage a military coup against Russia's Ministry of Defense using his personal 25,000-strong mercenary army.
... (more)

---
Ukrainian Pilot Trained in America for Two Years Dies Just Weeks After Returning to Ukraine in 'One of The First Combat Missions He Flew'
A Ukrainian pilot who trained for two years in America died during "one of the first combat missions he flew" upon returning to his home country to fight in the US' proxy war with Russia.
... (more)

---

RT: Russia 'Could Save Humanity' by Using Nuclear Weapons
Russian state media outlet RT shared a column on Wednesday from Professor Sergey Karaganov calling on Russia to nuke the Western backers of Ukraine in order to "save humanity."
... (more)

---