AP Justifies Beheadings: French 'Incite Anger' Due to Their 'Brutal Colonial Past,' 'Insensitivity' Towards Muslims
Chris Menahan
InformationLiberation
Nov. 01, 2020

In the aftermath of a Tunisian Muslim migrant beheading an elderly Christian woman and slaughtering two other Christians in a Church in Nice, the Associated Press ran an article claiming the French "incite anger" in Muslims because of their "brutal colonial past" and their president's insensitivity towards their faith.




From the AP:

AP Explains: Why France incites such anger in Muslim world
By ANGELA CHARLTON

PARIS (AP) -- Many countries, especially in the democratic West, champion freedom of expression and allow publications that lampoon Islam's prophet. So why is France singled out for protests and calls for boycotts across the Muslim world, and so often the target of deadly violence from the extremist margins?

Its brutal colonial past, staunch secular policies and tough-talking president who is seen as insensitive toward the Muslim faith all play a role.

As France steps up security and mourns three people killed in a knife attack at a church on Thursday -- the latest of many attributed to Islamic extremists in recent years -- here's a look at some of the reasons the country is under fire.

France has the largest population of Muslims in Western Europe, more than 5 million in a nation of 67 million, a legacy of its colonial domination of large swaths of Africa and the Middle East.

But the country's efforts to integrate Muslim immigrants have faltered. The official French doctrine of colorblindness is intended to ignore ethnic and religious backgrounds and to have all French citizens seen as equally French. In reality, the ideal often fuels discrimination against those who look, dress or pray differently from the historically Catholic majority, instead of preventing it.

Muslims are disproportionately represented in France's poorest, most alienated neighborhoods, as well as its prisons. That has bred angry outcasts who see their homeland as sinful and disrespectful toward Islamic traditions, or simply racist against Arab and other immigrants from lands that once enriched the French empire.
The AP and writer Angela Charlton followed the story up with this article:




As a reminder, the AP last year responded to the news of a Mormon family being brutally massacred by narco-terrorists in Mexico by writing an article claiming the Mormon Church was being "forced to confront its history of polygamy."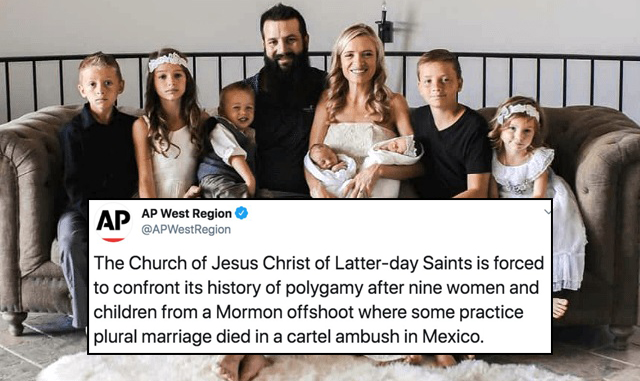 In contrast, after Ahmaud Arbery was killed earlier this year and his criminal past and history of threatening police was exposed, the AP ran an article claiming Arbery -- who was on probation for stealing a 65-inch TV at the time of his death -- had "enrolled in a Georgia college" and was "preparing to become an electrician" after putting his troubles "largely behind him."




Christians and Westerners must be browbeat over ancient history but "people of oppression" mustn't be held accountable for the crimes they committed yesterday!

Follow InformationLiberation on Twitter, Facebook, Gab and Minds.