Fox News host Chris Wallace on Wednesday conflated criticism of the press with attacking press freedom to claim President Trump is "engaged in the most direct sustained assault on freedom of the press in our history."

From The Guardian, "Fox host lambasts Trump over 'most sustained assault on press freedom in US history'":

"I believe that President Trump is engaged in the most direct sustained assault on freedom of the press in our history," Wallace said to applause at the Newseum, a media museum in Washington, on Wednesday night.

"He has done everything he can to undercut the media, to try and delegitimise us, and I think his purpose is clear: to raise doubts when we report critically about him and his administration that we can be trusted. Back in 2017, he tweeted something that said far more about him than it did about us: 'The fake news media is not my enemy. It is the enemy of the American people.'"

Wallace recalled that retired admiral Bill McRaven, a navy Seal for 37 years, had described Trump's sentiment as maybe "the greatest threat to democracy in my lifetime" because, unlike even the Soviet Union or Islamic terrorism, it undermines the US constitution.
"Democracy" in this case means rule by unelected oligarchs and deep state bureaucrats.
The veteran broadcaster added: "Let's be honest, the president's attacks have done some damage. A Freedom Forum Institute poll, associated here with the Newseum, this year found that 29% of Americans, almost a third of all of us, think the first amendment goes too far. And 77%, three quarters, say that fake news is a serious threat to our democracy."
The people who think the First Amendment "goes too far" are leftists and journalists.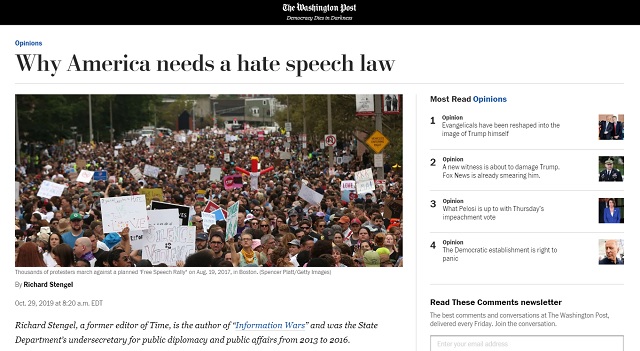 They're the ones lobbying for the First Amendment to be scrapped.
[...] at Wednesday's event, a farewell to the Newseum which is closing down after nearly 12 years at its current location, Wallace also warned the media against overreach. "I think many of our colleagues see the president's attacks, his constant bashing of the media as a rationale, as an excuse to cross the line themselves, to push back, and that is a big mistake," he said.
You just did exactly that.
"I see it all the time on the front page of major newspapers and the lead of the evening news: fact mixed with opinion, buzzwords like 'bombshell' and 'scandal'. The animus of the reporter and the editor as plain to see as the headline."
Big Tech and the top news outlets in the US like the New York Times and the Washington Post are all working together to wage an all-out assault on the First Amendment and the independent media (the Post popularized the term "fake news" in a lie-filled hit piece after Trump's election aimed at shutting down independent media) but according to Wallace, Trump's criticism of the media's fake news lie-filled reporting is "the most direct sustained assault on freedom of the press in our history."

I guess you're a bad person who is against press freedom if you don't believe Judith Miller's fake news about WMDs in The New York Times (Miller now works for Fox News where she's lobbying for war with Syria and Venezuela based on lies and half-truths).




I guess you're against press freedom if you criticized ABC News for running footage from a gun range in Kentucky gun range which they insisted showed "Turkey's military bombing Kurd civilians" after being "abandon[ed]" by President Trump.


Wallace and his allies in the fake news media literally have their terrible shows promoted by Google and YouTube through their rigged search algorithms while their independent competition is being systematically suppressed and banned yet he's whining about Drumpf's criticism as an attack on the free press!

Incidentally, I haven't heard Wallace say anything about Trump's actual attack on the First Amendment with his Wednesday executive order aimed at punishing critics of Israel and supporters of BDS by making Jews on college campuses a "protected class" -- I wonder why that is?

Follow InformationLiberation on Twitter, Facebook, Gab and Minds.