The media and Democrats' hysterical reactions to President Trump allegedly killing Abu Bakr al-Baghdadi makes me think Baghdadi might actually be dead.

Just like with Obama Bin Laden, Abu Bakr al-Baghdadi is one of those "Emmanuel Goldstein"-type figures who has been "killed" multiple times but always seems to come back to life when a boogeyman is needed to justify keeping our forever wars going.

This case could be quite different if Baghdadi's killing is used as a reason for Trump to pull our troops out of Syria.

From Infowars:

Some pundits lamented that killing ISIS members only reinforces their murderous ideology.


CBS News Senior National Security contributor Mike Morell said he was "bothered" by Trump detailing Baghdadi's death because it "inspires extremists."


Vox editor Aaron Rupar lambasted Trump for saying that witnessing the raid against Baghdadi was like "watching a movie."


A CNN correspondent compared Trump's language about Baghdadi to ISIS's hateful rhetoric.



Obama officials like his Vice Chairman of the Joint Chiefs of Staff criticized Trump for "piling on" the humiliation of ISIS's defeat.


Obama's former National Security Adviser Susan Rice said the successful raid was not "mission accomplished."


A CNN panel condemned Trump's "irresponsible" remarks about Baghdadi "dying like a dog."


Fox News' Chris Wallace harped on Vice President Mike Pence for not briefing House Speaker Nancy Pelosi on the special operations raid.


2020 Democrat presidential candidate Bernie Sanders refused to congratulate Trump or the U.S. forces who conducted the raid, instead giving credit to the Kurds in Syria.


"Saturday Night Live" couldn't even help digging into Trump over his dovish Syria policy, saying he's "Making ISIS Great Aagain"…the same night al-Baghdadi was killed.


Fortunately, some journalists, like Glenn Greenwald, recognized the media's shameful behavior and called them out on it.


Former DNI head James Clapper said the killing could "galvanize" ISIS, as Breitbart reports:

On Sunday's broadcast of CNN's "State of the Union," former National Intelligence Director James Clapper commented on the reported death Abu Bakr al-Baghdadi, the leader of ISIS.

Clapper warned the death could "galvanize" ISIS.

Clapper said, "What is going to be interesting is to the extent to which this negatively affects ISIS or does it galvanize ISIS, the remnants of ISIS, which still survives as an ideology and has franchises in other places besides Syria."

He added, "ISIS is more than just Baghdadi, as important as he was. 14,000 to 18,000 fighters yet remaining and the franchise are branches in other places — notably, Afghanistan where of course we still have forces. ISIS did participate in losing leadership. So they decentralized and groomed people to assume the role. Now I don't know that they have anybody would have the symbolic importance of Bagdadi, but I don't think we can say at this point that we can stop worrying about ISIS."
The media are already reporting that Abdullah Qardash has allegedly been appointed as the new leader of ISIS:


As Susan Rice said on CBS' "Face the Nation" in the clip above, killing Baghdadi "doesn't mean that the fight against ISIS is over and it doesn't mean we can declare 'mission accomplished' and just walk away."

"We need to be vigilant, we need to maintain a minimal presence in order to ensure that the pressure stays on ISIS and they don't come back roaring."

ISIS collapsed after Trump ordered the CIA to stop funding them and gave Putin the OK to wage total war on all their strongholds in Syria. Before Trump took over, ISIS were viewed as a "useful tool" to undermine Iran, Hezbollah, Syria and Russia.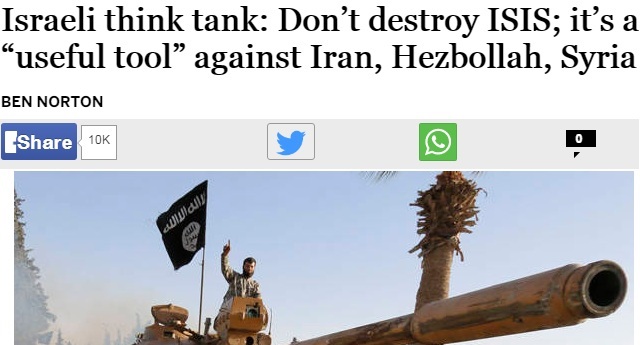 Follow InformationLiberation on Twitter, Facebook, Gab and Minds.