Facebook CEO Mark Zuckerberg told the establishment media at a conference on Tuesday that Facebook is going to "dial up" its "suppression" of news outlets he deems lacking in "trustworthiness."

From Buzzfeed:

Facebook CEO Mark Zuckerberg said Tuesday that the company has already begun to implement a system that ranks news organizations based on trustworthiness, and promotes or suppresses its content based on that metric.

Zuckerberg said the company has gathered data on how consumers perceive news brands by asking them to identify whether they have heard of various publications and if they trust them.

"We put [that data] into the system, and it is acting as a boost or a suppression, and we're going to dial up the intensity of that over time," he said. "We feel like we have a responsibility to further [break] down polarization and find common ground."

Zuckerberg met with a group of news media executives at the Rosewood Sand Hill hotel in Menlo Park after delivering his keynote speech at Facebook's annual F8 developer conference Tuesday.

The meeting included representatives from BuzzFeed News, the Information, Quartz, the New York Times, CNN, the Wall Street Journal, NBC, Recode, Univision, Barron's, the Daily Beast, the Economist, HuffPost, Insider, the Atlantic, the New York Post, and others.

The event, called "OTR" (shorthand for "off the record"), is an annual gathering meant for new media news executives to talk shop. It is in its second year. Zuckerberg's remarks were initially meant to be, like the name of the conference, off the record, but he agreed to answer questions on the record.

Zuckerberg said the company will invest "billions" of dollars in a combination of artificial intelligence and tens of thousands of human moderators to keep both fake news and deliberate propaganda at bay, especially in elections.

"We're essentially going to be losing money on doing political ads," he said of the investment the company is making to avoid a repeat of the spread of Russian propaganda in the 2016 US election.
We already what the results of this will be as CNN, one of the least trustworthy propaganda mills on the planet, saw a "remarkable 30.1 percent increase" in engagement on Facebook in the month of March according to social media analytics service NewsWhip.

Thanks to Zuckerberg's changes, CNN is now by far the number one site on Facebook according to NewsWhip's engagement rankings:





Meanwhile, Breitbart has fallen from rank 9 last December to rank 21.

A study from Western Journal found Facebook's algorithm changes were "crushing" right-wing sites and boosting leftists.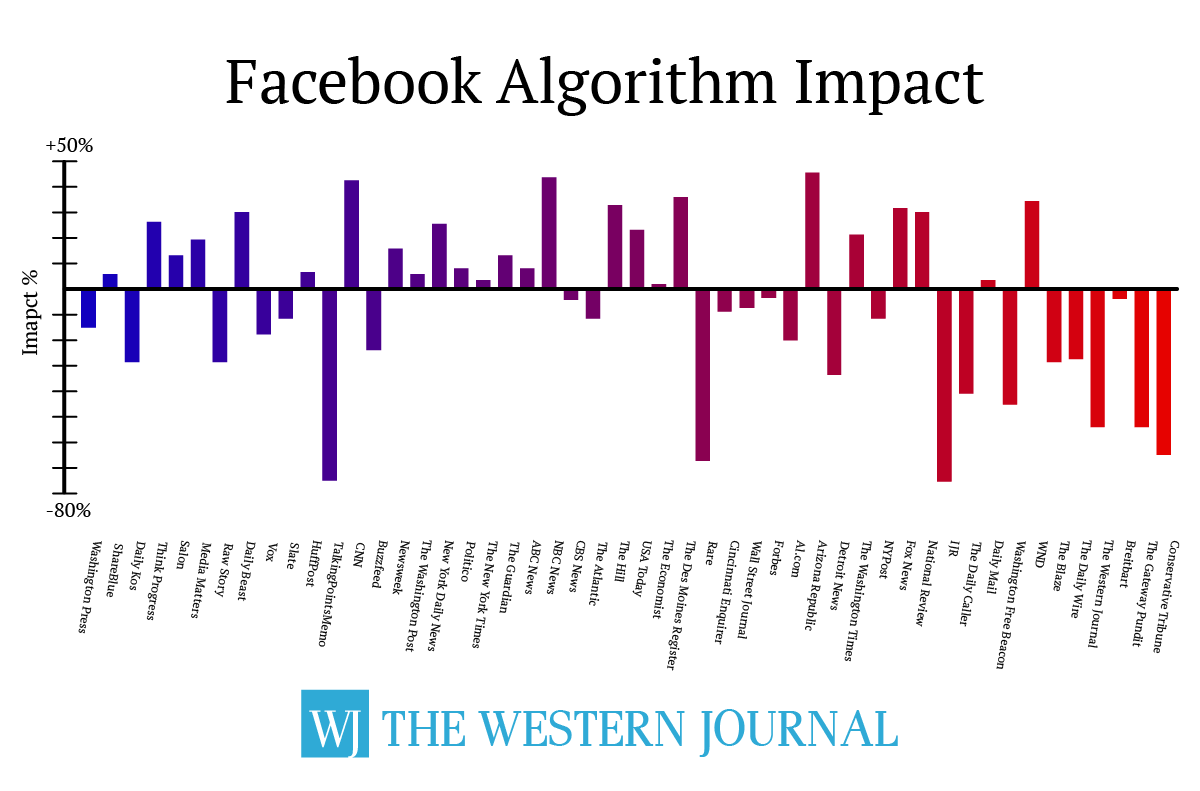 The Gateway Pundit similarly showed a set of charts showing how right-wing outlets are being hammered by the changes:



Google and Twitter have both made similar changes to suppress right-wing voices and they're getting more oppressive every month.


This is an organized attempt by Big Tech to suppress alternative voices so no "rogue" candidates like Donald Trump can ever get elected. Americans need to demand these big tech companies be regulated as public utilities and forced to honor the First Amendment.

Follow InformationLiberation on Twitter, Facebook and Gab.