What is the point of all this sabre-rattling, exactly?

From RT:

The White House has warned that the US is ready to use the "full range" of capabilities at its disposal and might resort to using its nuclear arsenal against North Korea if it continues to threaten Washington or its allies.

On Sunday, President Trump again called Japanese Prime Minister Shinzo Abe by telephone to reaffirm Washington's commitments to its allies in the region.

"President Trump reaffirmed the commitment of the United States to defending our homeland, territories, and allies using the full range of diplomatic, conventional, and nuclear capabilities at our disposal," the White House said in a statement.



Both leaders have condemned North Korea's nuclear test and called Pyongyang's behavior "destabilizing and provocative actions."

Trump has also "confirmed the two countries' ironclad mutual defense commitments, and pledged to continue close cooperation," the statement read.



In a series of tweets Sunday, Trump branded North Korea a "rogue nation and a threat." The latest development in Pyongyang's nuclear capabilities are "very hostile and dangerous to the United States," the US president said.



Following the tweets, Trump held a meeting with his chief of staff, Gen. John Kelly, and Defense Secretary James Mattis at the White House to discuss an appropriate response to the North Korean hydrogen bomb test.

Mattis later warned that any attack on the United States or its allies would be met with a "massive military response." He noted that while the US was not "looking for the total annihilation" of North Korea, it had "many options to do so."

"Any threat to the United States or its territories, including Guam or our allies, will be met with a massive military response – a response both effective and overwhelming," Mattis said.
Pyongyang has successfully tested a hydrogen bomb which can be mounted on an Intercontinental Ballistic Missile (ICBM), the country's state TV announced Sunday.

Just prior to conducting the six nuclear test, the North announced that it has all the indigenous technology and production capacity to carry out a super powerful Nuclear electromagnetic pulse (EMP) attack, which, if exploded at a high altitude, could paralyze electronic systems infrastructure of any country. The US considers a potential EMP attack a real threat to the nation, capable of inflicting "catastrophic" damage.

Concerned over North Korean nuclear ambition, South Korean military has conducted a live-fire drill, simulating an attack on the North's nuclear site. The drills involved the country's Hyunmoo ballistic missile and the F-15K fighter jets.
North Korea is not our problem. Campaign Trump was correct when he said Japan and South Korea should have their own nuclear weapons.



He later walked it back and said he never said it due to media attacks, but his instincts were dead on and it's now widely being discussed.

The time for imposing regime change on North Korea has long past. Now that they have nukes there's no bullying them. Are you going to nuke their entire country? I'm pretty sure the South Koreans wouldn't consider that "helping."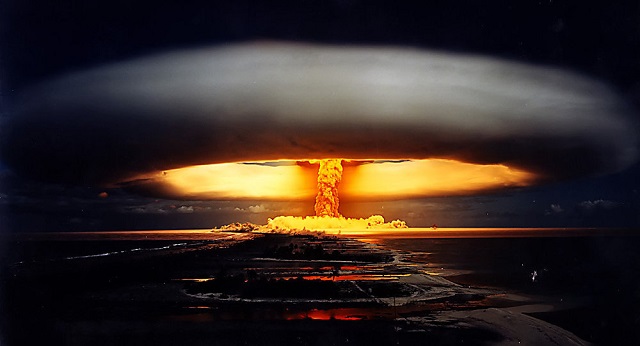 Sanctioning China is not going to help anything either -- other than push America closer to a war with the Chinese.

Outside of giving Japan and South Korea nukes, I have a bold recommendation to solve this problem with little to no risk. If you want to destroy their country, just send our nation's finest cultural Marxists over there with their finest social justice literature and see if they can't "liberate" the North Koreans as they did in the West. Convince the North Koreans to open their borders on top of all that and you'll see their society collapse in no time.

Follow InformationLiberation on Twitter, Facebook and Gab.