A new report from the Swedish newspaper Dagens Nyheter found immigrants were behind 90 out of 100 murder and assassination attempts with firearms in Sweden.

From FriaTider (as translated with Google):

Young men with immigrant background are behind almost all murder and assassination attempts by firearms. It shows a recent survey from DN. Most of them originate in the Middle East and North Africa. Not one is Finns, although it is a large immigrant group in Sweden.

The DN survey includes 53 sentenced and 47 suspects in investigations regarding general shooting since 2013.

Most are born in the 90's and many live at home with their parents. The use of cannabis is common.

Out of 100 people involved in assassination and murder attempts where firearms were used, 90 people have at least one foreign-born parent, according to DN's review.

One possible explanation is "variations over time in the part of the population who have a foreign background", writes DN.

The vast majority of men, around 80 percent, have their roots in the Middle East and northern Africa. Most come from Iraq, Iran, Lebanon, Turkey, Somalia and Eritrea.

Latin Americans only occur in three of the cases, people from the Balkans in five and Finns are not in anything, DN points out.

The newspaper explains the extreme overrepresentation with the lack of jobs, for example, writes that less than 30 percent of adult Somalis have a job.

Only 40 percent of men can be linked to organized crime where there is money to earn.

The DN also points out that the darkness is large and that the review does not include casualties with suspects abducted from the investigation.

"It is a fact that the phenomenon of street violence and violence occurs in some areas, and most of those living there have been foreigners," says sociologist Amir Rostami at Stockholm University to the newspaper.
This report backs up comments Sweden's "most experienced police investigator," 47-year veteran officer Peter Springare made earlier this year saying migrants are responsible for almost all crime in his country.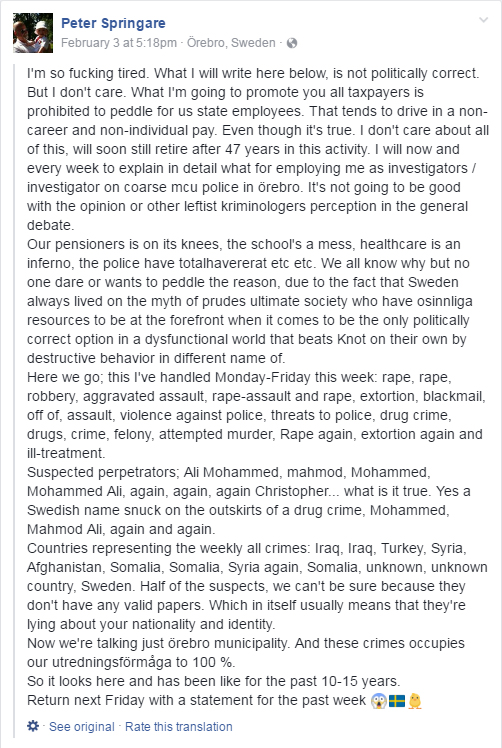 Follow InformationLiberation on Twitter and Facebook.