Afghan 'Refugee' Confesses to Rape, Murder Of 19-Year-Old German Girl
Chris Menahan
InformationLiberation
Dec. 04, 2016

A "17-year-old" Afghan "refugee" taken in by a family in Germany last year confessed to the rape and murder of a 19-year-old medical student.

From The Daily Mail:

A teenage Afghan asylum seeker has been arrested in Germany for the rape and murder of the 19-year-old daughter of a senior EU official.

Medical student Maria Ladenburger, who volunteered at a refugee home in her spare time, was found dead in the university city of Freiburg, near the border with Switzerland in mid October.
Her father is Dr. Clemens Ladenburger, a lawyer who works as the right hand man to the legal director of the European Commission.

It is unclear whether she ever met her murderer before he took her life.

The suspect has confessed to the murder, according to police. He was arrested on Friday and will go before the courts next year.
Maria was drowned after being raped, her body found in the River Dreisam on October 16.

A single 18.5 cm long strand of dark hair that had been partially dyed blonde, was found in a blackberry bush.

Her black scarf was also found discovered on the riverbed.
DNA from the hair and the scarf were run through the police criminal database, but no matches were found.

Detectives then turned to CCTV footage in the town and the surrounding area where Maria was found.
After three weeks video footage was unearthed of the asylum seeker on a local tram who police say had a 'very conspicuous hairstyle, an undercut hairstyle', with a portion of his long hair dyed blonde.

He was arrested Friday and a DNA probe matched him to the crime scene. Public prosecutor Dieter Inhofer said the suspect had been taken in by a local family in Freiburg, where he had lived without incident.
"News of the young Afghan's arrest triggered much reaction on social media with some people saying an ironic 'thank you' to German Chancellor Angela Merkel," France 24 reported.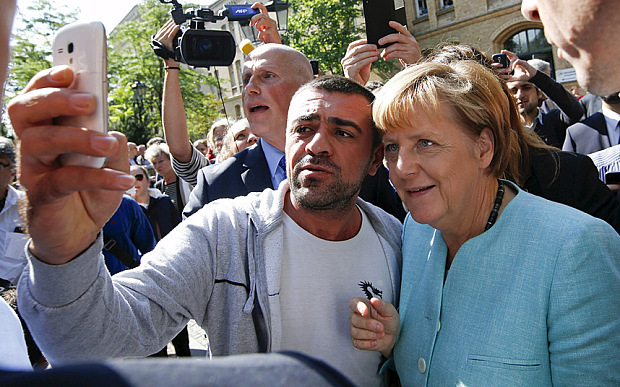 A 27-year-old woman was similarly raped and murdered just two weeks after this incident in the nearby Endingen forest. Police say they haven't found any evidence the two are related.




I'm sure we will soon learn this "17-year-old unaccompanied minor" is actually a fully grown 40-year-old man.

Follow InformationLiberation on Twitter and Facebook.