German girls being made to wear bags on their heads is "beautiful," at least according to this advert from German TV.

From Face of a Dying Nation:

This is a short insight on the programs you can expect on both State and privately owned Television channels in Germany. In this advertisement, a veiled woman stands in front of a text that spells "Turkish women wear the Hijab". The woman turns to the camera and turns out to be a blonde German girl. She proudly exclaims that "I wear one (a Hijab) too, it's beautiful" before stating the Ad campaign slogan: "Enjoy difference, start Tolerance."
German taxpayers have to pay a mandatory State Media broadcasting fee to finance the government owned Television and Radio channels. All private channels belong to just three companies. This particularly Channel is called "Pro 7" and belongs to the Lavena Holding 4 GmbH which also owns other major Entertainment and News channels. The ad campaign was funded by the United Nations Educational, Scientific and Cultural Organization (UNESCO) in 2012.
Even if you can prove that you own neither a Television nor Radio, the state forces you to pay the fee. People have been imprisoned for refusing to pay it. In a recent case, a 46 year old German woman from Thuringia was sentenced to 6 months in prison for not paying her broadcasting fee, totaling 196€ ($220), for ideological reasons. Due to public outcry, she was released after serving 2 months in prison.
If there's one thing Islam is know for, it's tolerance.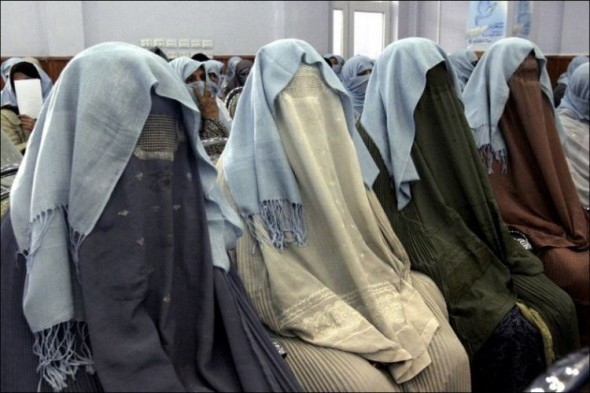 "We also wear a hijab -- it's beautiful!"


The Huffington Post had a similar celebration of head-bagging back in May.

They promoted the hashtag #HijabToMe to combat the "misperception" that "Muslim women who don the headscarf may lack agency."

Indeed, wearing a bag on your head is a sign of female empowerment!



Hey lady, why don't you show how "empowered" you are by wearing the full face covering burka?

Wearing makeup and showing your face is for infidel prostitutes.




Excuse me ma'am, what "message" are these empowered feminists "sending"?:





"I have always been amazed by how beauty can be so diverse taking every shape and form."


If you're wondering why feminists don't give a s**t about female oppression in Muslim countries, not to mention all the raping going on in places like Rotherham, it's because they don't actually care about women's rights, they just want to tear down "white male patriarchy."

Follow InformationLiberation on Twitter and Facebook.