Leftists Vandalize Home, Spray-Paint Swastikas, Protest on Woman's Lawn Over Trump Signs
Chris Menahan
InformationLiberation
Aug. 08, 2016

Criminals love Hillary Clinton and hate Donald Trump.

Yesterday, I brought you the story of a college girl who stole two Trump signs and afterward insisted it was some sort of "performance art." Today, we find another story where so-called "protesters" (see: criminals) felt it appropriate to protest on a woman's own lawn because she had some large Trump signs.

Other insane criminals in the neighborhood spray-painted one of her signs with a giant swastika and destroyed other parts of her property.

From CBS DFW:

"I stood up and looked, and I went, there is some jackass [protesting] in my yard. So I go out there, and I walk up to him, and I go, hey what's going on, and he decided to berate me and get in my face," [McKinney homeowner Kimberly] Loyd said.

Police say officers did have to advise the protesters what they could and could not do.

As for Loyd, she says no one needs to tell her how she can express her views.

"It's not political. It's more like, this is my right. This is my property," Loyd said.


Similar happened on Saturday in Andover, Massachusetts, where a woman was arrested for vandalizing a man's Trump sign and almost running him over as she fled the scene.



This is who we're dealing with: crazed lunatics who want to attack us for displaying political signs in our own lawns.

These are terroristic intimidation tactics.




Back in March, I covered how three Hispanic gang members stole a man's Trump sign then threatened him with a gun.




In New York, a father was captured on video telling his young children to "look at them [Trump supporters] in the eye" because "we're gonna be fighting against them."



Then there's all the violence which goes down at every Trump rally in the "culturally enriched" cities across America:



These domestic terrorists are waging what amounts to guerrilla warfare against us -- and Hillary wants to let them run free.

She invited the mothers of attempted cop killers to speak at the DNC right after Black Lives Matter supporters went on a killing spree in Dallas and shot white people at random in Tennessee.




She also invited illegal immigrants and their anchor baby child -- who are robbing American taxpayers who paid into the system for generations -- to speak at the DNC.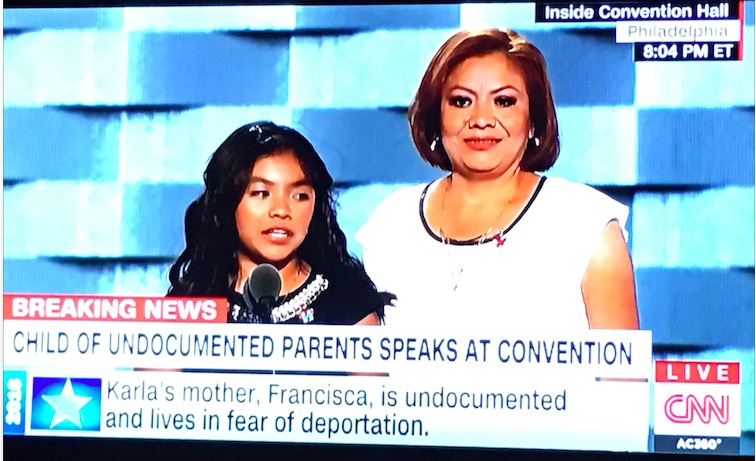 If Hillary wins this election, she will open the borders to endless Third World immigrants who all vote Democratic to ensure we can never vote in a Republican ever again. The only reason she has a chance right now is because of this demographic displacement which has almost completely disenfranchised actual "native" Americans and stolen their voice, their vote, their entitlements, their country and their birthrights.

Follow InformationLiberation on Twitter and Facebook.